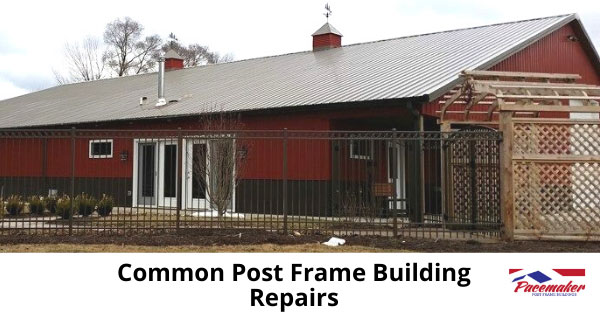 As with any building, your post frame structure will need repairs during its lifetime. Whether you use the structure like a barn, equestrian center, or commercial building; damage done by humans, animals, machines, and weather will require attention to bring it back to top condition. Because of the simplicity of post frame construction and sophistication of design, many common post frame building repairs and upgrades are far more straightforward than with other traditional forms of construction.
Common Post Frame Building Repairs
Re-Clad and Re-Roof
Let's start with the ultimate repair or upgrade project for a modern post frame structure. Suppose your post frame barn has been in place for decades, and the exterior has begun to look worn and dated. This could be due to sunlight, wind, ice, snow, machinery, and more. You inspect the building and find the support structure is still in great shape, with many more years of service to come.
You do not need to waste the money on demolition and reconstruction of the entire building. Simply remove the outer "skin" and roofing of the building and replace them with new cladding. The process is relatively easy and will save you money. Choose newer materials that suit the weather conditions and use of your post-frame structure. This will ensure you get the most out of your re-cladding project.
Adding and Reinforcing the Posts
Some post frame buildings were built decades ago and did not have the advantage of new post frame materials and techniques. As a result, some vulnerable, untreated wooden vertical support posts may have started to rot.
Don't despair. You do not need to tear your post frame structure down to start over. Instead, you can simply sink and anchor new treated posts side-by-side with the existing ones. If you have a concrete floor, the supplemental posts can be bolted in next to the existing supports.
Reinforcing the Trusses
If a fallen tree or severe weather has somehow diminished the integrity of one or more roof trusses, you may adopt a similar strategy to strengthening those rotting frame posts. Securing a new truss next to the old one will create a more robust, undamaged support system. Once done, apply new roofing over the damaged areas, and you will be back in business.
Engineering a New or Wider Doorway
As time passes and your needs change, you may discover that your building access needs have changed. To accommodate larger equipment, for example, a wider doorway would be a great benefit.
With a post frame structure, widening doorways is far easier than with traditional buildings. Widely spaced vertical posts allow building owners to create broader access by repositioning individual posts on each side and extending the header to accommodate the broader opening.
Always be sure to consult a professional post frame company before proceeding with moving posts to avoid structural weakening.
Adding Useable Space Above
While not necessarily a post frame repair, adding an office or additional storage above can add significant value to your post frame building. Before starting, make sure that the overhead structure is designed to handle the extra load.
You may add a stairway for easy access to the new space. You can segregate the upper room with walls and windows and even install heating and air conditioning.
Pacemaker Post Frame Buildings
For over four decades, family-owned Pacemaker Post Frame Buildings has been designing and producing components for high-quality buildings throughout Northern Indiana, Southwest Michigan and Northwest Ohio With a team of highly skilled professionals, Pacemaker has advanced the materials and techniques of post frame building with new technologies and building practices.
For more information about building or post frame building repairing a post frame building used for businesses, farms, storage facilities, civic buildings, firehouses, churches, schools or homes, contact Pacemaker Post Frame Buildings in North Webster, Indiana.
Visit the Pacemaker website to view some of their amazing finished projects.
If you have questions, phone the post frame professionals at 1.574.834.4448, or leave your information on the Contact Us page of the website.