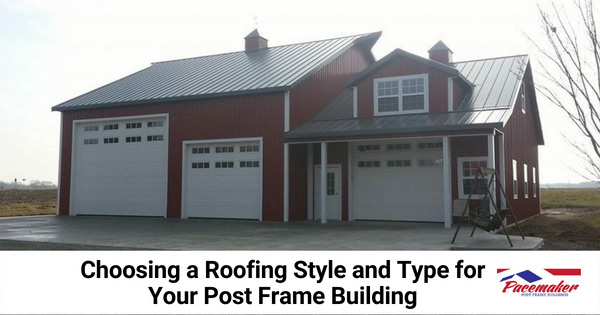 Post frame buildings have many options for their roofing style and design, just like residential homes and traditional buildings. Like standard construction, roofing decisions for post frame buildings are driven by the structure's purpose, neighborhood architectural requirements, style, extreme weather conditions, and budget. Below are some of the key considerations when choosing a roofing style for your post frame building.
Focus on Structural Integrity First
By working with an experienced post frame building designer, building owners can begin to understand their roofing options. Whichever roof style they choose must incorporate sufficient design strength to support the maximum load required. For example, the post frame design has to accommodate excessive forces in areas where wind and snow conditions can be severe.
A post frame building is only as strong as its weakest element. In a post frame building, trusses play a crucial role in ensuring a structurally safe installation for interior features. This can include lofts, decks, and upper stories. Trusses must also be able to handle the maximum amount of snow and ice build-up. Furthermore, they are built to withstand excessive wind. Trusses are designed to handle the weight and redirect it downward through the vertical posts and into the ground. The post frame design expert will determine the best way to ensure the roof structure will support potential loads under any conditions.
Styles of Roof for Post Frame Buildings
As mentioned, the choice of roof styles for a post frame building is diverse. Whether the building is for agricultural, civic, commercial, equestrian, or other purposes is part of the roof design process.
Here are a few eye-catching roofing style options that a new post frame building owner may consider:
Gable Roof:

A central roof ridge runs laterally across the building, from which two sections slope downward. The result is a gable at each end.

Gable Dormer Roof:

This roof integrates at least one window within a dormer. The dormer will protrude from a downward-sloping section. A windowed dormer projects vertically from the plane of the roof.

Hip Roof:

This roof projects downward from all four sides. These come together to form a ridge in the center.

Dutch Hip Roof:

This is a modification incorporating the elements of a gable roof that extends downward as usual, where a hip roof section may then be integrated.

Mono-Sloped Roof:

A roof (and building) sloped in only one direction.

Gambrel Roof:

A gambrel roof starts from the center line at the top, extends downward at an angle to a midpoint, and then slopes even more steeply. Often the edge runs beyond the structure's lower level. This roof style is most familiar with traditional barn styles.

Monitor Roof:


With its double-pitched roof, a monitor roof presents a raised structure. The second roof is parallel to the main roof.
Working with Pacemaker Post Frame Buildings
Clients of Pacemaker Post Frame Buildings of North Webster, Indiana, have relied on the professionalism, expertise, and sound judgment of the experts at Pacemaker Post Frame Buildings for over four decades.
The roof choice for a new post frame building design can significantly affect a new structure's functionality, appearance, acceptability, and cost. Of course, zoning requirements, neighborhood compatibility, and other elements always play a role. Pacemaker professionals can advise the most effective and economical option for any circumstance.
Northern Indiana, Southwest Michigan, and Northwest Ohio clients rely on Pacemaker Post Frame Buildings' expertise to design and complete their post frame structures.
You can visit their Gallery of finished projects to see the many solutions the Pacemaker post-frame experts offer, including roof styles.
If you need more information or have questions, visit the Pacemaker website and complete the brief Contact Us Form.
Or you can call Pacemaker Post Frame Buildings to set up a meeting to discuss your project at (574)-834-4448.