Interested in building a multi-use equestrian facility?
Here's the story of someone who did just that.  Learn about her needs and how Pacemaker Buildings was able to provide a cost-effective solution that met all of Ann's expectations.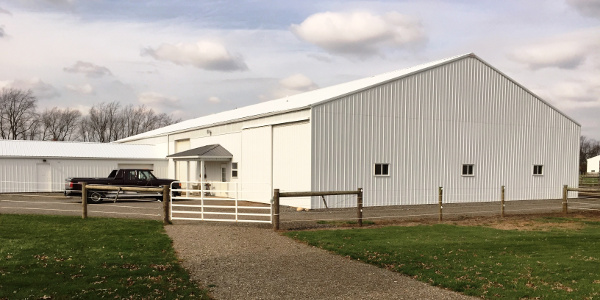 The Facility:
ANN COLE TRAINING CENTER
Edwardsburg, MI
Owner: Ann Cole
Ann Cole has been teaching horses and riders for over 35 years. Born and raised in the Michiana area, Ann has studied and been successful in the disciplines of Barrel Racing, Western Pleasure, Horsemanship, Showmanship, Hunt Seat and Jumping. She has studied and practiced natural horsemanship since 1996.
The Problem:
Ann contacted Pacemaker Buildings initially back in 2007 with a need to update her existing equestrian facilities in Mishawaka, Indiana.  After our face to face meetings, we discovered that she had an existing barn with a few older stalls and was interested in growing her business.
Ann had taken time off to raise her two sons and was now ready to take the next step to turn her love of horses into a full-time training and teaching business.  We discovered that she needed additional stalls, a heated tack and viewing room, and an indoor training facility.  So after several initial designs we came up with a plan that was tailored to meet her needs and constructed a beautiful 66' x 144' facility that would house six new stalls, tack and viewing area, and allow for a 66' x 120' area to be used as her indoor training facility.
In 2013, Ann had substantially grown her business and decided to move closer to her aging parents in Southwest Michigan.  Based on her past experience she only made one call, and it was again Pacemaker Buildings, to design and construct her new facility.  After our initial meeting, we discovered that she wanted to basically duplicate the same facility to a larger scale and add a heated indoor riding arena.
The Solution:
Project included a 66′ x 120′ x 15′ indoor riding arena which includes our premium grade steel ceiling panel with R-38 blown insulation in the attic space and 6″ batt insulation providing an R-19 in the wall cavities.  This allowed for brighter light reflectivity from the ceiling and an energy efficient facility that keeps both instructor and trainee comfortable during sessions.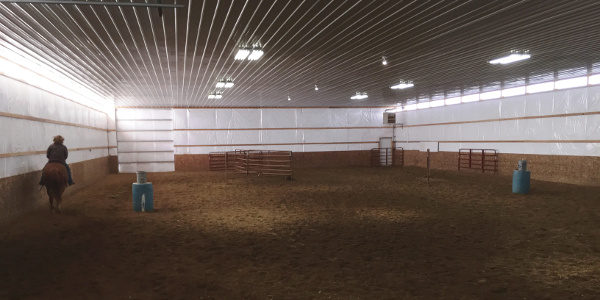 The Equestrian Facility Details:
One (1) 66′ x 156′ x 15′ P-6 equine barn attached to an existing hay storage barn.  The building has White Siding, White Roofing, and a Charcoal Porch Roof.
The horse arena includes 48″ vertical stirrup guard including purlins and wall board to protect both the horse and rider.  Also included in the riding area is our 30″ polycarbonate skylight to allow for more natural lighting for both trainer and animal.
The stall barn consists of a 66′ x 36′ x 15′ area which includes ten (10) stall with 4′ sliding stall doors with upper grill fronts, tack room, office with observation viewing area to the arena and bathroom.  The stall area also includes a 12′ concrete aisle way between the stalls and into the riding arena for safe, easy access in all directions.
This equestrian training center includes large 12′ x 14′, 10′ x 14′, 12′ x 8′ sliding doors, and a 12′ x 13′ insulated overhead door with electric operator.
This project also includes a 6′ x 18′ x 8′ drop eave porch with hipped ends to add visual appeal to the training entrance area.  Also, included are 36″ thermalized double pane vertical hung aluminum windows with insulated steel service doors with 9-lite thermal glass.  Finally, 6″ seamless gutters with downs were included to allow for water shed away from the building area.
What the Facility Does Today:
Private, semi-private, and group horsemanship lessons
Hosts clinics
Performance horse training
Barrel and Trail horse training
Boarding
Trains, buys, and sells horses
Pacemaker was able to build Ann a beautiful, energy efficient building that fulfilled all of her needs and the needs of her horses and clients.
Need ideas for your equestrian center? Check out our equestrian gallery.  Download our handy planning guide for post frame buildings. Please feel free to contact us with any questions or to schedule a planning meeting.