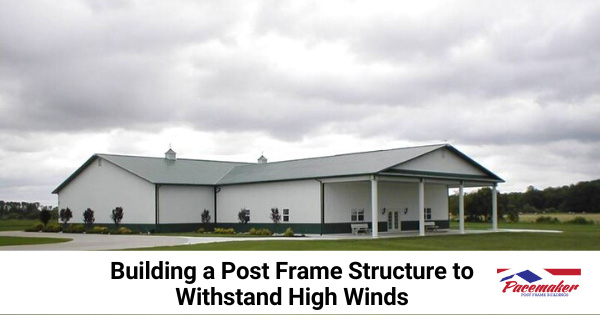 Modern post frame buildings have a built-in design feature that allows them to be safe and secure in extremely high wind conditions while other types of buildings could suffer substantial damage or even collapse. There are many documented instances where post frame structures have survived hurricanes and tornadoes.
Standard "stick-frame" and other types of construction do not always fare as well in extreme wind conditions. This is because they typically connect to their foundations right at ground level. However, as they are supported by sturdy, deeply embedded posts, post frame buildings can withstand winds effectively. They do this by redirecting the wind forces into the ground below the building.
Concrete anchoring can provide more stability for these vertical posts in areas where extreme wind conditions above 90 miles per hour occur.
Designing a Post Frame Building for Maximum Wind Resistance
In many places, the weather is becoming less predictable year-to-year. Temperatures are rising on average, and weather events are occurring in places where they never did before. Excessive wind storms are also happening more frequently across the midwest. Building designers must now consider how to incorporate even more protection against the threat of high winds. They must factor in sustained and continuous wind, as well as gusty, sudden wind storms.
Orient the Building According to the Prevailing Winds
During the design phase, consider the location and the direction the building should face. The location and direction can reduce the building's exposure and minimize the effects of the prevailing winds. The USDA provides a tool to help identify the historic wind tendencies in each area. This allows designers to orient the structure in the most beneficial wind direction, while also ensuring it is efficient for use.
Reduce Spacing of Vertical Posts
You can strengthen the overall structure of the building by narrowing the distance between the vertical posts. Instead of eight-foot distancing, six-foot spacing can provide a more robust defense against abnormally high winds. Similarly, the roof girt spacing can be narrowed to strengthen the roof structure and prevent lift.
Dig Deep and Anchor
Vertical post frame posts should always reach at least four feet below the ground's surface. For areas with higher wind potential, at least six feet deep adds an extra degree of stability. For further strength, use preformed concrete footings or consider refilling each hole with concrete rather than dirt or gravel.
Employ the Most Secure Fasteners Everywhere
Joints and connections must be strong to ensure the integrity of the post frame building during extremely windy conditions.
Truss-to-Column connections could be bolted rather than nailed or screwed.
Pay close attention to all support bracing and connectors. This will ensure the high winds will transfer evenly through the trusses, walls, and columns into the ground beneath the building. Distributing the forces evenly will ensure the post frame building can withstand whatever nature offers.
 Use screws, not nails, to attach metal siding. This helps the building withstand heavy winds by reducing the chance of the material lifting and tearing.
Keep Doors and Windows Closed
Close and latch doors and windows when not in use, especially when a storm is approaching. If the wind has a chance to enter through one of these openings, the potential for damage will increase dramatically.
Check with Pacemaker Post Frame Buildings
Pacemaker has four decades of experience dealing with unpredictable, high-velocity wind conditions in the upper Midwest and Great Lakes Region.
As a result, Pacemaker's post frame designs, structural components, and fasteners are designed specifically to withstand the windy, stormy conditions of that sector of the country.
To view, many of Pacemaker's beautiful, economical, and rugged post frame buildings, visit their Website Gallery. You will see many attractive commercial, agricultural, equestrian, and even residential solutions by Pacemaker.
Pacemaker Post Frame Buildings serves clients in Northeastern Indiana, Southwest Michigan, and Northwest Ohio from the base of operations in North Webster, Indiana.
To discuss your needs or ideas, complete the brief Contact Us form on the website, and one of our post frame experts will contact you promptly. Or, you may call Pacemaker Post Frame Buildings at 888.834.4448.