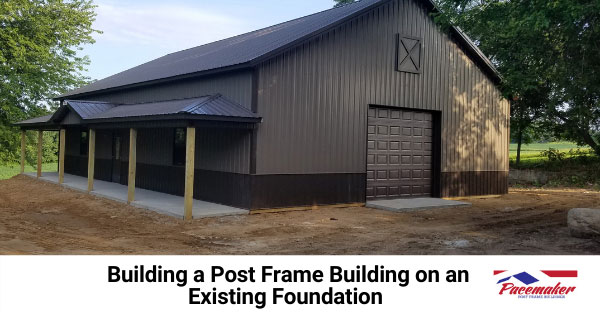 Some farm and home owners find themselves faced with the prospect of what to do with a large concrete slab. Often this is all that remains from an old structure or left in place from a defunct basketball or tennis court. Consider building a post frame building on an existing foundation.
In other instances, property owners may be thinking about demolishing a dilapidated structure that is seated on a sound concrete foundation.  And replacing the old building with a new multi-purpose post frame structure.
An existing foundation that remains in great shape can be a true asset when considering a new post frame building. While there are some essential considerations before moving forward and using that foundation, there are some real advantages. These include:
Less site preparation; since the base and flooring are already available, no grading is necessary.
Shorter time to completion; since the excavation stage is already complete.
Cost savings; a natural result since some of the labor is complete and some expensive materials are in place.
What to Consider with an Existing Concrete Foundation
While having a previously used concrete slab in place may sound like a miracle option, there are more questions to consider.
1. What is the quality and life expectancy of the concrete foundation? How was the original concrete mixed and cured? Has the concrete set correctly?
If the foundation begins to disintegrate after you complete your new post frame structure, you will face complex issues and expenses. As such you should always get an expert to examine the existing concrete foundation. It may be better to start over than try to make a faulty foundation work for you.
2. How thick is the foundation?
Since you already know what the purpose of your post frame building is, make sure the foundation will be sufficient to bear the necessary weight. This calculation should include all the equipment you plan to bring inside. If you plan a garage for vehicles and other heavy equipment, assure the concrete thickness can support the excessive weight.
3. Is the foundation deep enough to avoid frost heaves?
If it has been around for several years without damage, you may not need to worry about this aspect. However, learn what the acceptable frost depths are in your area and double-check the foundation.
4. Is the drainage sufficient?
The ground around the base of the structure should be graded. Thus aiding in the removal of rain and melted snow from the building's base. It can be a good idea to freshen or redo the sloping grade away from the foundation. This grade should be at least 2% to a distance of 10 to 15 feet from the perimeter of the building.
Pacemaker Post Frame Buildings
Pacemaker Post Frame Buildings has been a premier innovator in post frame technology for over four decades. The company, located in North Webster, Indiana, provides post frame materials, design technology, and construction resources to clients throughout northern Indiana, southwest Michigan, and northwest Ohio.
If you wish to learn more about the many benefits of post frame buildings for agricultural, civic, equestrian, and residential uses, visit the Pacemaker website. While there, you can view the See the Results Gallery showing some of the many beautiful and creative finished projects that Pacemaker has recently completed.
To discuss design issues and the construction of an economical and highly functional post frame building on a new or existing site, call the experts at Pacemaker Post Frame Buildings at 1-888-834-4448.
Alternatively, you can fill in the brief Contact Us form on the website, and one of the Pacemaker Post Frame professionals will contact you promptly.