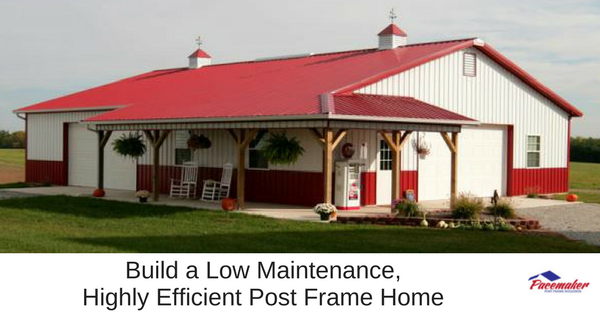 Post frame construction continues to gain popularity as a reasonably priced and durable option for municipal buildings, fire stations, schools, churches, warehouses and agricultural buildings.
Architects and homeowners are embracing this construction method for beautiful, well-engineered private residences built for a broad range of needs.
For economy, strength, versatility, and the potential for broad, uninterrupted space within, no method of construction can match post-frame construction.

The cumulative advantages of reducing material and labor, less time from design to completion, durability in high wind conditions, adaptability, sustainability, and low cost make post frame construction the perfect choice for new residences.
Less ongoing maintenance and excellent energy efficiency give post frame construction an edge over traditional types of buildings.
Economics of Maintaining a Post Frame Residence
While post frame construction is a less expensive option for new residences, maintaining the structure to prevent damage from the elements over time can save even more money. A properly built and tightly sealed post-frame building will last a lifetime with routine inspection and maintenance measures that prevent damage from neglect. A simple inspection schedule and minor repairs or replacements, as with any building, will save time, money and worry in the future.
Among the many advantages of modern post frame homes is that these require less ongoing maintenance than other types of homes. As with any building, inspection of the roofing and siding elements is always beneficial. However, the simplicity of post-frame residence combined with durable external and internal materials demands very little upkeep management.
Low Cost to Own and Maintain
Compared to steel or other types of construction, maintaining a post frame structure is often less intensive. The building uses less material for construction. Support components are widely spaced. Keeping a post-frame building in good shape is relatively easy. Repair and replacement, when needed, is easier than with other types of buildings.
Also, post frame homes are more energy efficient than other types of construction. Because of the typical six to eight-foot span between vertical columns, wall insulation is more uniform than with stick-frame structures. Because of the uniform insulation properties of post-frame construction, less energy escapes through the framing material.
Windows, Doors, and Insulation
To maintain a well-protected interior and eliminate problems from penetrating elements, examining the integrity of the seals for all windows and doors is essential. Slight adjustments and routine replacement of seals, as needed, to keep the structure clean and dry will prevent any future degradation and keep energy costs down.
Careful insulation application will make sure gaps don't develop that could allow energy to escape. Correcting insulation gaps will allow you to maintain the desired temperature range within the home.
Siding and Roofing
Homeowners often prefer to use metal siding and roofing for protection in harsh weather. These materials are attractive, durable and long-lasting, but regular inspection will ensure that everything remains intact. Homeowners should routinely inspect all fasteners and seams to make sure nothing is pulling loose. During a severe storm, any small gap in the integrity of the roof or siding may result in water damage.
An annual pressure washing will maintain the "like-new" look.
If wood siding is your preference, protect the structure with high-quality paints or stains that will not deteriorate over time.
Sustainable and Compatible with the Environment
Now, more than ever, reducing the environmental impact of our activities is vital for the sustainability of our livelihoods. No single solution will solve all of our energy needs, but taking steps to reduce the energy requirements by constructing and maintaining the structures we use is a necessary and important factor.
Post frame buildings are rapidly surging in popularity due to the advantages they offer in improved energy efficiency.
Every nail, board, piece of tape, and other equipment used to make any building will impact the environment. When deciding on the primary building components for your new home, stay away from steel and concrete. This reduces the potentially ecologically harmful processes required before the material is transported to the building site.
On the other hand, post frame buildings use the time-tested and renewable strength of wood instead of more environmentally unfriendly materials. Trees are renewable, and nature can recover from our use more quickly and easily.
Unmatched Versatility
Because of the nature of the structure and the potential clear span of the interior, post frame offers more usable cubic footage than other construction methods. Besides the vast open expanse between the walls, post frame can also provide high sidewalls that allow considerable vertical space. Skylights and fixed lite side windows admit an abundance of natural light while the high ceilings give the effect of vaulted ceilings. This advantage may also reduce electric lighting and even heating costs.
Owners can leave the truss structure exposed for a vaulted ceiling effect. Or, they might install an ornate finished ceiling beneath the truss supports, depending on your aesthetic preferences.
Flexible Interiors
Suppose you wish to create a dream home on a mountain lot that affords you a breathtaking view. Next, you imagine a floor plan that maximizes the surroundings, provides a panoramic unobstructed view and offers all those particular elements that you want. You will find that post-frame construction best provides the necessary durability and functionality and is affordable.
The uninterrupted open space that is typical of post-frame construction is perfect for accommodating just about any interior configuration. Without the load-bearing walls that are typical of other framing systems, post frame homes easily allow as many, or as few, walls and partitions as you require.
Expandability
Even though external additions are easy to add with post-frame construction. There are plenty of ways to maximize existing interior space to fit your needs.
Home designs are intended for a specific number of people. As the family grows, walls may be removed. Materials can be reused and repositioned to adjust to a changing physical scheme.
At a later time, walls can be removed to provide a spacious open area, perfect for entertaining. The extra room is simple to convert into a media room, office, or a hobby room.
This type of adaptability is possible with post-frame construction methods.
Built to Endure
Concrete and bricks are difficult to repair once any substantial damage is done. Vinyl siding and other plastics are flimsy.
Post frame buildings have the enduring qualities of wood along with sensible foundation construction. They are more durable and ecologically sustainable than the competition.
Work with Professionals
Considering a new home or commercial building? Contact Pacemaker Buildings to discuss today! Call 888.834.4448.