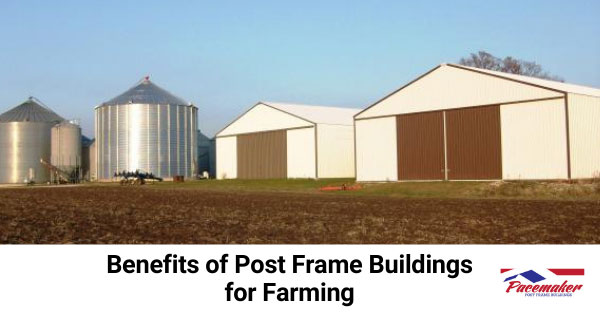 The effectiveness, practicality, and economy of post frame buildings are incomparable for agricultural uses. The design configuration offers advantages that other types of construction do not. The benefits of post frame buildings for farming are many.
Modern post frame buildings are durable. They are not only capable of withstanding high winds but also the severest weather conditions. Thus they provide a lifetime of excellent service for your farm.
Advantages of a Post Frame Barn or Storage Facility
Wide, uninterrupted space
One of the unique features of a post frame building is the amount of uninterrupted open space inside. The trusses and the entire roof structure are supported by widely spaced durable support columns. These are anchored deep into the ground along the perimeter. Thus, the structure's interior does not require any load-bearing walls or supports.
This feature is critical when using the facility to maneuver and store farm equipment. You have ample space for vehicles, housing livestock, storing supplies, or a work area.
Site Preparation is Minimal
In most instances, you only require a level area to accommodate the building's footprint. This should have a slight slope to facilitate drainage and be slightly larger than your building plans.
Conventional construction methods require masonry or concrete foundations. Some areas would even require poured walls to support the structure sufficiently. However, this is not necessary with post frame construction. Hence, you save a considerable amount in materials and labor; as well as minimizing completion time.
Energy Efficiency
In addition to the substantial costs saved during the construction process, well-designed post frame buildings offer significant savings in utility costs. Insulation, for example, can be applied more efficiently and uniformly. The widely spaced posts and trusses make this much easier than insulating between the narrowly spaced studs of a "stick-frame" structure. Fewer gaps mean less energy will escape, thus less heating or cooling is required. You can also add large doors, windows, and vented ridge to allow for increased airflow.

Multiple Applications
There is no limit to how you use your post frame building. Over time, it is also easily adaptable to new applications. Some of the popular agricultural choices are:
 Equipment Storage – ample mobility, high ceilings, plenty of ventilation, and protection.
Livestock Housing – maintain optimal temperatures and keep livestock dry and protected.
Crop and Feed Storage –  a dry, temperature-managed space protected from the elements.
Dairy Production – keeps cows comfortable, equipment clean, and protected. Space for clean stalls, milking rooms, maternity barns, and manure processing facilities.
Farm Shop / Office – a clean room segregated from the rest of the operations. Ability to add temperature-control measures for comfort.
Metal Cladding Advantages
The exterior and roofing of post frame buildings may be clad in any normal exterior material to satisfy aesthetic appeal. However, these structures are also perfect for durable steel or metal panels. Metal exteriors are capable of withstanding the harshest conditions while protecting the assets within. Also, maintenance of a metal-clad building is minimal compared to wood or other exterior materials.
A Menu of Modern Post Frame Agricultural Buildings
To view and learn more about the versatility, practicality, and beauty of modern post frame agricultural structures, visit the Gallery of Pacemaker Post Frame Buildings' completed projects shown on their website.
While there, you can witness the perfect marriage of beauty and functionality in several of their recently completed agricultural buildings.
Contact Pacemaker Post Frame Buildings
For more information regarding the advantages of their beautifully designed post frame buildings, contact the professionals at Pacemaker Post Frame Buildings in North Webster, Indiana.
For over four decades, the experts at Pacemaker have been leaders in post frame innovation and implementation. Having served thousands of satisfied customers in Northeast Indiana, Southwest Michigan, and Northwest Ohio, the Pacemaker Design Team offers long-lasting solutions to a wide range of challenges, providing high-quality components and guidance to all clients.
To learn more and discuss your needs, visit the Contact Us Page on the Pacemaker website, and one of our experts will be in touch.
Or you can call Pacemaker Post Frame Buildings at +1-574-834-4448.