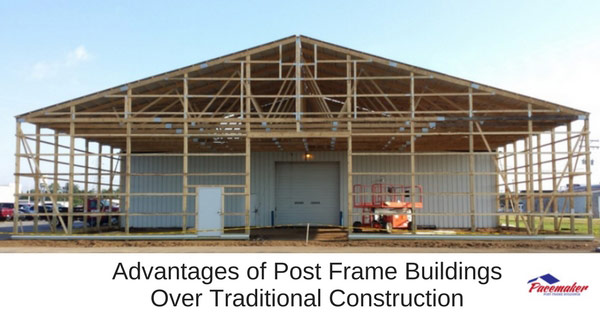 Post frame construction, in various forms, has been around for decades. Once considered a building method used only for agricultural buildings. Newer techniques and materials have made post frame techniques ideal for warehouses, retail buildings, schools, civic buildings and offices, private homes, and more.
News of the practicality, durability, and economic advantages of post frame construction is spreading quickly.  More and more, project developers weigh the many advantages of post frame buildings versus more conventional building methods.
Post frame building has sometimes been referred to as pole barn construction. However, modern post frame buildings are far more sophisticated in engineering and design than the old-style pole building construction. Today's techniques for post frame building construction allow for the addition of any type of interior and exterior cladding. As well as, nearly any architectural feature can be incorporated.
Post frame construction offers many advantages over traditional building methods. From our base in North Webster, Pacemaker Buildings serves the greater northern Indiana and southern Michigan area with Post frame building construction.
Some of the advantages of post-frame over other building construction types are:
Advantage 1: Save on Foundation Costs
The most common framing systems for private homes and buildings require a continuous concrete foundation. This usually takes the form of a crawlspace or basement. Post frame buildings are supported by vertical wooden posts. These posts are sunk four to six feet into the ground. The heavy, high-quality sawn wood posts are treated and protected from the effects of moisture and bacteria. In addition, they have metal sleeves or concrete anchors for protection.
Post frame buildings do not require extensive concrete foundations for their support, thereby saving considerable expense. According to a Wicks comparison, foundation construction can typically make up 10 to 15% of the total building costs.
Advantage 2: Adaptability and Reduced Site Preparation
A modern post frame building only requires a level site. Performing a final grading with some sloping around the exterior for drainage is all that is necessary to accommodate a post frame structure.
If future expansion is a required, adding new sections is much easier when the support columns are 8 to 10 feet apart.
Advantage 3: Post Frame Building Construction Time
Far less preparation and materials are needed, plus the construction method is simpler for post frame buildings. As a result, the time from planning to completion is significantly reduced with post frame building methods.
In addition, no need for specialized labor, thereby reducing the amount of time and cost to complete.
Advantage 4: Superior Durability
By sinking triple laminated, heavy timber columns deep into the ground, post frame structures have proven to withstand the toughest wind and weather conditions.
Post frame buildings have survived tornados and hurricanes better than other construction. Their "diaphragm" action that redistributes exterior forces evenly through the walls, conveys the forces through the columns into the ground beneath.
Moreover, heavy-duty, reinforced trusses provide added durability that surpasses other forms of construction.
Advantage 5: Energy Savings
The vertical columns of a post frame structure are usually 8-feet apart. Additionally, the cavities between the outer surface and the inside face of the heavy beams are 6-8-inches deep. This wide spacing provides for continuous insulation without frequent energy-wasting interruptions.
In comparison, stick frame or steel frame building allow more energy to escape. This is due to the closely spaced and highly conductive metal or lumber columns.
The roof sections and trusses of post frame buildings offer the same insulating capability as the walls.
Advantage 6: Wide, Clear Span
Post frame construction has no interior weight-bearing walls. The result is a wide, clear span for equipment, vehicles, storage, or animal habitation. The structure can be divided into an array of adaptable offices and storage areas. Allowing the flexibility of changing as needs change.
Post frame construction is often the method for fire stations, warehouses, retail outlets, barns, stables, gymnasiums, and health clubs.
Advantage 7: Sustainability
The essential support structure of a post frame structure is wood. Timber is a fully renewable resource.Thus, growing trees for wood helps the environment.
In addition, recycled and fully recyclable materials for outside walls and interior spaces further add to post frame environmental superiority.
Contact Pacemaker Post Frame Buildings
Want more information regarding the advantages of post-frame construction? Contact Pacemaker Buildings, a premier supplier of customized post frame materials.
Visit the Pacemaker website and phone their post frame experts at 888-834-4448.