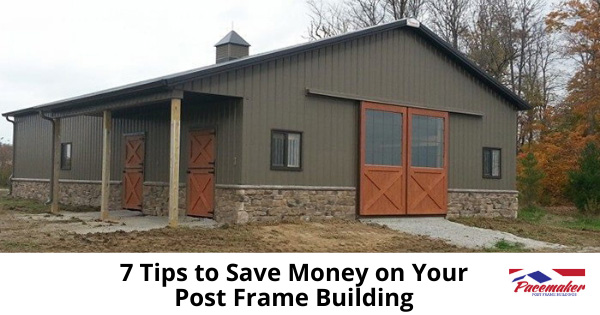 Modern post frame structures are all about functionality and durability. This simplified and economical building method offers superior technology for agricultural, municipal, commercial, and even suburban buildings. In every region, owners now have post frame structures that precisely fit their needs and budgets. To make your beautiful post frame building even more economical than it already is, consider these 7 tips to save money on your post frame building.
Save Money on Your Post Frame Building
First of all, post frame buildings are already a more economical option than standard buildings. This is because they offer superior value by requiring:
Less material
Lower labor costs with fewer specialized laborers
Shortened time from design to finish
Simpler site preparation
Additional Cost-Saving Ideas
1. Column Spacing
During the design phase of your post frame structure, you can optimize the spacing of the load-bearing columns or posts. To do this calculate the maximum weight that these posts will need to support. Heavier loads mean more posts and closer spacing. Posts are typically spaced between 6 and 10 feet apart. Trusses naturally are spaced in the same way. Therefore, fewer, more widely spaced posts and trusses will result in a lower cost.
2. Wainscoting
Agricultural equipment, mowers, accumulating snow, and even animals can damage the lower parts of your exterior siding. Reinforcing these areas with protective masonry wainscoting can maintain integrity and add aesthetic beauty to the overall structure. This will help you save money on repairs in the coming years.
3. Horizontal Sliding Doors
Sliding doors are the most efficient opening space for the money invested. With today's modern design this type of door provides wider openings with stronger and lighter door panels than in the past.
4. Natural Lighting
Having windows or window-like panels will also save energy. If you design the building with clear or translucent panels beneath the eaves, you will increase the building's illumination without having to add more artificial lighting.  Also, where possible, add plenty of windows.
5. Insulation
A durable moisture barrier or membrane will keep energy costs down by conserving energy to cool or heat for comfort. A long-lasting moisture barrier will lengthen the useful life of your building. This prevents condensation buildup that can erode the integrity of the components.
6. Use the Best Materials
Investing in high-quality materials will ensure the durability and longevity of your structure. Adequately manufactured and pretreated materials will last longer, look better, and cost you less in the long run. You will also have fewer repairs.
7. Plan with a Proven Post Frame Company
A professional post frame company can help with your design and source materials. A company like this has witnessed just about every mistake and success possible in the post frame business. Allow the experts to advise on the best designs and strategies that deliver a long-lasting, highly functional, and beautiful building that will serve your needs for decades. Proper planning can often save money and eliminate headaches that some have experienced by making poor choices for their post frame building.
Contact Pacemaker Post Frame Buildings
The experts at Pacemaker Post Frame Buildings have experience in all phases of design, supply, and construction for high-quality, low-cost post frame buildings. For over four decades, Pacemaker has served thousands of clients throughout Northern Indiana, Southwest Michigan, and Northwest Ohio out of their North Webster, Indiana, headquarters. The Pacemaker Team consists of a full range of building specialists adept at handling every phase of post frame construction.
You can view many of the Pacemaker projects by visiting their website. While there, you can ask any questions on the Contact Us page, and one of our experts will answer promptly.
Are you looking for the perfect balance between high quality and low cost? Contact the Pacemaker experts at 888-834-4448, and we will be pleased to discuss any building solutions.