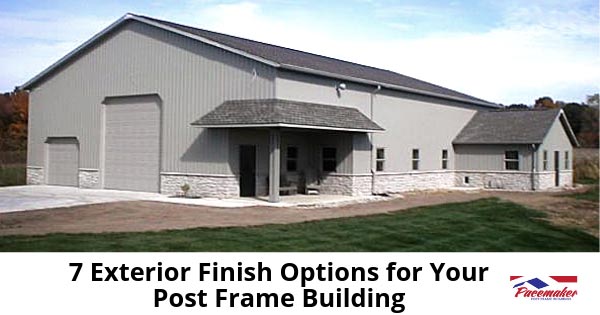 Choosing the right exterior finish options for your post frame building is no different than for any other structure. The desired aesthetics, coordination with the surrounding architecture, maintenance level, function, and neighborhood standards, plus durability and cost considerations, will determine your choices.
How Will the Building Be Used?
Even if the post frame building is primarily for agriculture, appearance is still an important consideration. Many choose exterior finishes that match the architectural profile of their residence or other surrounding structures.
Equestrian centers and horse barns tend to be attractively clad with a less utilitarian appearance than a typical barn.
Designs for retail outlets, civic buildings, schools, and churches usually conform with local codes and tend to complement surrounding structures.
Residential owners often choose exterior finishes that fit with the neighborhood, often using brick, wood, or other sidings.
However, before you begin, make sure your plan conforms with your local building codes. Planning Departments around the country have developed a mishmash of interpretations of what is acceptable in their area.
Exterior Finish Options for Your Post Frame Building
Even though post framing differs structurally from conventional wood, metal, or brick-framed buildings, the exterior finish options for your post frame building are virtually the same. In some cases, like when stucco siding complements brick wainscoting, the two materials may be used in tandem. Here are some of the options you could choose:
Wood Siding

Traditional exterior finish, with the option of being painted or stained

Aluminum:

Durable and designed to take on the appearance of standard wood siding without the maintenance

Vinyl Siding

Another material with the look of wood siding and available in many colors and shades, vinyl is durable and requires little maintenance.

Standard Steel Panels or Steel with Crinkle Finish

A durable, textured metal surface that will maintain its appearance for decades

Brick

A substantial building material that may clad entire exterior wall surfaces or provide accents with wainscoting or trim elements

Stucco

Classic cladding that dates back to the Renaissance and Early American architecture

Stone and Stone Veneer

Primarily used as a full exterior wall cladding or as accents for lower sections, columns, and entryways
Pacemaker Post Frame Buildings
Pacemaker Post Frame Buildings is a leading manufacturer, designer, and builder of post frame materials and buildings. For four decades, this Northern Indiana family-owned and operated construction company has created post frame buildings for municipal, agricultural, retail, educational, religious, and equestrian uses.
Pacemaker's designers and talented professionals can help with the design and selection of the right materials for your post frame building. For both exterior and interior finishes, Pacemaker experts will advise based on your preferences, and budget.
Visit the Pacemaker website to view many beautiful and highly functional completed projects.
Contact the experts at Pacemaker Post Frame Buildings with your exterior finish questions by phoning 888-834-4448.