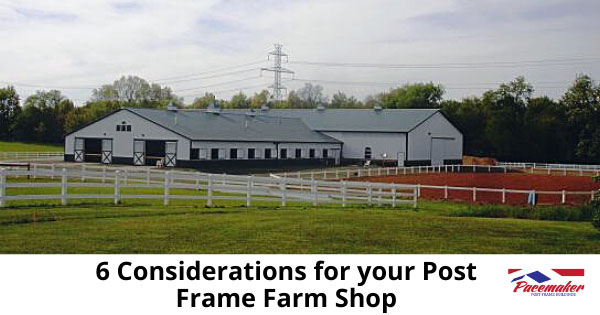 Has your current farm shop space become too cramped, limiting your ability to get things done? In that case, it's time to think about a practical and economical solution to relieve stress and improve productivity. A modern and spacious post frame farm shop is the solution for those seeking ample room for equipment, tools, supplies, spare parts, and more.
Why is post frame construction the best solution for any workshop? Some benefits of post frame buildings are:
They provide clear, unobstructed space without load-bearing interior walls for moving equipment and vehicles in and out easily.
Economical to build, using fewer materials and less labor.
Able to complete in less time.
Less site preparation required.
Able to withstand severe wind conditions better than conventional structures.
More energy efficient.
Can be easily expanded over other types of construction.
Creating Your Post Frame Farm Shop
1. Designing the Right Size Building
Knowing how much space you will need is critical. To determine this, first, consider the size of the vehicles or equipment you expect to bring inside. Be sure to allow room for ample workspace and storage for supplies, tools, and other equipment.
Next, calculate how much storage you will need for parts, tools, and accessories.
Office space, bathroom, and additional storage for office supplies should also be a consideration. In some instances, more height will be added to a post frame building to accommodate an upper level or mezzanine for these areas.
If you expect your needs will grow in the future, remember that post frame buildings can be planned in phases.
2. Floors and Drainage
During site preparation, the structure's footprint and the immediate perimeter should be graded to ensure that water will flow naturally away from the inside of the building.
Before installing a concrete floor, plan to spread at least six inches of compacted gravel and cover with a vapor barrier. The reinforced concrete flooring should be a minimum of 6" thick to support heavier lifting equipment. A drainage system is essential to carry away liquids used to wash or hose down the floor and equipment inside.
To extend the floor's life and preserve its appearance, you should cover the concrete with a surface hardening material and sealant. This will help to protect against gouges and dents.
3. Workspace
Large tractors, combines, and planters can take up a lot of space. Therefore, if you plan to store and maintain these within the shop, make sure you leave substantial room to work on them.
Your workspace should be well-lit, have adequate drainage, and have temperature controls as needed.
4. Access and Doorway
The main entryway should be large enough to accommodate the largest piece of equipment you expect to bring inside. Measure the height and width to ensure the doorway will be the right size. We recommend adding a few feet to these dimensions, as newer equipment is likely to be even bigger.
Additionally, the access or ramp approaching the entry should be reinforced to sustain the weight of equipment moving in and out of the building.
5. Storage
Leave ample room for storage of supplies, tools, and equipment. Storage spaces should be easily accessible and well-organized. You should store heavier supplies and equipment at ground level, however, a mezzanine level may work best for lighter weight supplies.
6. Lighting, HVAC, Insulation, and Electrical
Well-insulated post frame buildings are very energy efficient. Insulating the flooring's perimeter, walls, and roofing is relatively straightforward due to the widely spaced vertical posts that support the structure. Properly installed insulation helps your HVAC systems operate at the highest level of efficiency to keep you comfortable.
Thermostats, timers, and temperature sensors will reduce energy consumption while maintaining optimal temperatures while you are away.
Work with your electrician to ensure that all wiring and switches are sufficient to allow for convenience, accessibility, and workload.
Proper lighting and light placement are critical while working with your equipment. When planning your post frame farm shop, add in additional lighting in the maintenance areas.
Contact Pacemaker Post Frame Buildings
Headquartered in North Webster, Indiana, Pacemaker has been a premier provider of design, building components, and assembly of top-quality post frame structures for over four decades. A dedicated family-owned business, Pacemaker is a trusted resource for clients throughout northern Indiana, southern Michigan, and Northwest Ohio.
To learn more about Pacemaker Post Frame Buildings, visit their website, where you can view many of their most recent building projects for agricultural, farm workshops, retail businesses, equestrian centers, civic buildings, and residential structures.
Contact the professionals at Pacemaker to discuss your ideal farm shop design or other post frame structure for your business. You can visit the Pacemaker Post Frame Buildings website to learn more, see some recently completed buildings, or head to the Contact Page to request a call from one of our experts.
You can also call Pacemaker at 1-888-834-4448.