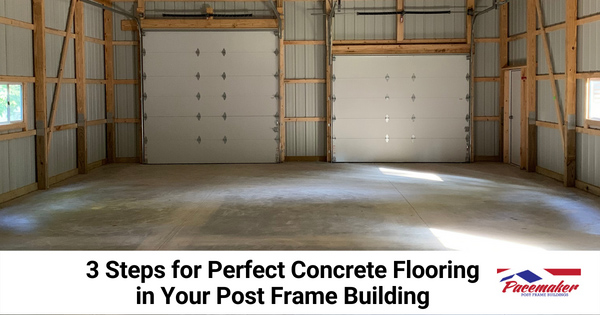 Concrete flooring is a great choice for post frame buildings. High-quality concrete flooring may be one of the essential components of your post frame building plan. Depending on the building's principal function, a long-lasting and durable concrete floor will keep the contents clean and dry, facilitate ease of movement, and provide a more functional workspace. It can also help to extend the life of the equipment entering and leaving the building.
Pouring concrete flooring for new or existing post frame buildings can be expensive. However, the benefits owners receive for years to come may pay for the initial investment. The benefits are even more significant if the job is done correctly from the beginning.
Before pouring concrete flooring in post frame buildings, the building owner and designer must address three major issues. These are:
What will be the primary functions of the post frame structure?
Designing a floor to withstand the expected loads requires planning and foresight. Considerations may include:
How heavy is the equipment, machinery, or stored inventories that the flooring will bear? Remember future equipment is likely to be heavier and that, over time, more items will find their way into the structure as needs grow.
How much maneuvering will be required? While this factor also contributes to the total square footage decision, moving equipment throughout the building adds to the wear and tear of the flooring.
How will we heat the building? Radiant heating from coils in the floor can be a terrific asset, particularly in workshops and maintenance areas where humans will be working. Naturally, this is a decision that must be made in advance.
Proper Site Preparation
Site prep for a post frame structure is less complicated than with other construction methods. The primary objective is to ensure the space is level with appropriate sloping for any drainage.
To avoid premature cracking and deterioration, the building site must be compact and level when placing an aggregate subgrade.
Following this first step, a compacted gravel layer should be placed to facilitate drainage. This will also support the concrete layer. Certifying that this layer is once again level and uniform is a critical step before installing the concrete.
You may wish to let the subfloor settle further while the rest of the building is completed. This can help eliminate the potential for subsequent settling and shifting in certain areas after the concrete is in place.
Determining the Thickness of the Concrete Flooring
Determining the thickness of the concrete application and the type of reinforcement depends on what will be stored in the new post frame building.
A proven post frame building expert or a qualified concrete expert will recommend the best thickness for your needs. They will take into account the uses and combined gross weights of the equipment and materials that will be housed. Specific guidelines exist, although each building owner's needs are unique.
For example, experts recommend a concrete thickness of at least six inches for heavy-duty tractors, earth movers, and dump trucks. However, lighter vehicles, including standard-sized pickup trucks, campers, and automobiles only require four inches of concrete. This will be substantial enough to survive wear and tear and provide maximum service.
Reinforcing components can also add to the life of a concrete floor. Reinforcements embedded in the concrete are a normal application to help the flooring last longer and withstand the weight and various forces.
Concrete reinforcement often consists of steel rebar or horizontal metal rods in a grid across the floor. While other reinforcement materials are available, your post frame design expert will recommend products based on your needs and budget.
Contact Pacemaker Post Frame Buildings
A longtime manufacturer, designer, and builder of post frame buildings for a variety of functions, Pacemaker Post Frame Buildings of North Webster, Indiana, is a leader in innovation and quality for clients in Northern Indiana, Southwest Michigan, and Northwest Ohio.
Experienced in all phases of post frame construction, the Pacemaker professionals will offer design ideas, quality components, and high-quality solutions for any structure.
Check out the Gallery of some of Pacemaker's completed projects to learn about their buildings' versatility, durability, and functionality.
For more information about Pacemaker Post Frame Buildings, visit the company website or call their experts at +1-888-834-4448.