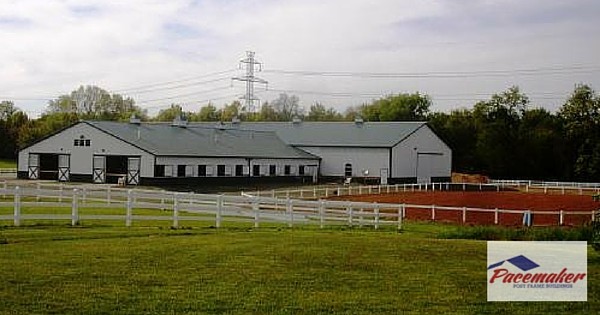 A pole barn can be a great addition to your property. These versatile buildings can adapt to shifting needs with ease.
Properly built and maintained, these outbuildings can last generations. When considering adding a pole barn to your property, you may be tempted to build the barn yourself with a pole barn kit from the nearest big box store.
Before you do, consider the following reasons why hiring a professional post-frame builder may be in your best interest.

Deciphering Building Codes Can Be a Full-Time Job.

Building codes vary by state, county, city, and township and may vary depending on the buildings intended use. Experienced builders know these codes inside and out and won't waste time, money, or materials getting it right.

Site Conditions and Local Weather Can Alter Needs.

Your builder can assess your property and select the correct engineering methods and site location with proper materials to ensure your new pole barn can stand up to whatever nature will throw its direction.

Engineering is Specialized Knowledge.

While you can, to some degree, get by without an extensive knowledge of engineering principles with a kit barn, you may still run into trouble. Understanding not only the materials and their construction but also how your land impacts the design, is vital to constructing a building that will last a lifetime. Professional qualified building contractors have the experience and know how to lay out a workable design.
Additional considerations apply based on where and how you intend to use your new pole barn. Let's look at the specific requirements for each:
1. Commercial
This could include retail space, a church, municipal building, an office, or a small warehouse.
Placement is Critical
Selecting the proper placement for your commercial building can impact your future options. If your business grows, and you need to expand the building, you'll want to have additional space available.
A professional builder can give you solid advice on your best placement options. Further, the placement and size of doors can impact the flow of goods and people through your business as well as dictate the internal layout of the building. Expert advice helps you get it right the first time.
2. Agriculture
This might be a farm shop, storage for equipment, a dairy free stall building, or used to house livestock.
Size and Function Dictate Design
Farming equipment seem to grow each year. What you have now will be replaced, and you may need more space to accommodate future acquisitions. Plan ahead.
What goes in the pole barn also determines the features necessary to keep them safe and secure. A workshop or office in the loft would require insulation, equipment storage may not.
Discuss the full range of potential uses with your builder and they can discuss how you can design your new space to get the most out of it.
3. Equestrian
For run-in sheds, training areas, riding arenas, or horse stalls.
Healthy Horse Planning
Ventilation is critical to the safe keeping of animals within an outbuilding. Animals emit a lot of moisture with each breath, and you'll need to think about what method will most effectively keep the air fresh.
The number of animals in the building can also determine not just the size, but how many storage spaces you have available, and how much space will be required to keep feed on hand.
Take a look at some of the beautiful equestrian structures we've built for some of our happy customers.
These are just a few of the considerations that come into building a barn. Hiring a professional builder not only streamlines the process and prevents costly mistakes, but it also ensures you'll have a building durable enough to stand for ages.
The cost spent on a professional could well be money saved down the road. Making the choice to add a pole barn can increase your home's value, so it makes sense to think of it as an investment.
We've built loads of post-frame buildings across Indiana, Michigan, and Ohio and we stay current with the latest methods, laws, and safety protocols to ensure your building is done right.
Contact us today so we can discuss all of the options available to you. We'd be glad to talk more!