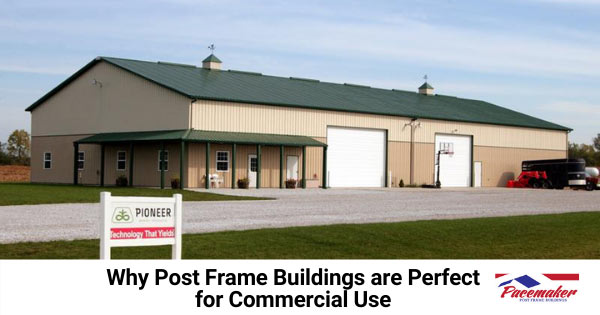 No other building method is quite as versatile and economical as post frame construction. This is because no other style offers the same amount of open, uninterrupted space. Post frame buildings are perfect for commercial use. From vehicle and equipment maneuvering to rows of shelving and displays with continuous sightlines. Additionally, post frame construction can offer maximum storage capabilities for your needs.
Ideal for agriculture, equestrian centers, warehousing, fire stations, civic buildings, schools, fellowship halls, post frame buildings often provide the best solution for just about any application. Plus for commercial and retail buildings, a post frame building will accommodate just about any need or function.
Post Frame Buildings are Perfect for Commercial Use
Post frame construction methods offer a range of advantages over more traditional building types. Some of these benefits include:
More Economical
Since post frame construction requires fewer materials, less labor, minimal site preparation, and reduced time to complete, it is more cost effective. A similar sized steel or masonry structure is often more expensive.
Foundation Preparation is Eliminated
Because post frame buildings are supported by widely spaced vertical columns embedded in the ground and securely attached to the roof support and studding, the need for costly excavation and foundations is eliminated. As an additional bonus, due to post frame structures' diaphragm design they can survive during high winds efficiently. No matter how severe the winds, post frame buildings transfer the forces evenly into the ground through the vertical columns while conventional structures often "shear off" at ground level during tornadoes and hurricanes.
Versatility
Another benefit of post frame buildings is the ability to easily adapt or change the layout. If you require more or less space, the absence of weight-bearing supports and walls allows for maximum flexibility in design. It is also much easier to add an addition if needed.
Energy Efficiency
Insulation application is much more uniform in a post frame building due to the large space between columns. This makes it easier to insulate effectively. As a result, post frame buildings consume less energy to heat and cool.
Sustainability
Nearly all elements of a post frame structure are recyclable or reusable. Many of the components for building a post frame commercial facility may be recycled or renewable materials.
Post frame commercial buildings are highly sustainable and ecologically "greener" than many traditional building types. This is mainly due to increased energy efficiency and the massive reduction in energy used to construct the building.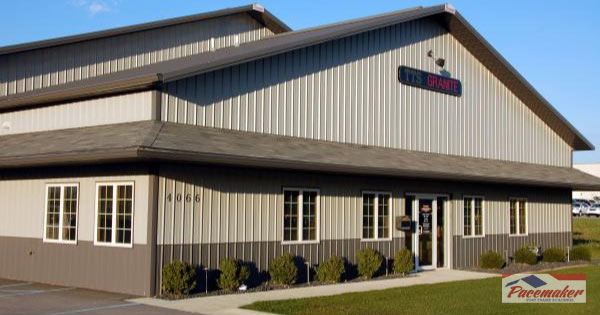 How Post Frame Buildings Are Ideal for Commercial Buildings
A simple look through some of Pacemaker Post Frame Buildings' recent completed projects clearly illustrates the unparalleled versatility of their buildings. Individually built to accommodate each customer's needs, these structures are completely customizable to provide the necessary functions.
And as with any post frame building, expansion for future growth is easy to accomplish whenever you need additional space.
There are some examples of Pacemaker's recently completed commercial projects on their website including:
Retail outlets and offices
Auto and truck dealership
Garage storage and display for antique automobiles
Storage unit complex
Truck and auto service facility
Warehousing and indoor loading facility with offices
Commercial fertilizer loading facility
Auto body shop with offices
Pacemaker Post Frame Buildings, A Leader in Commercial Building Construction
Pacemaker Post Frame Buildings, located in North Webster, Indiana, has served Northern Indiana, Northwest Ohio, and southeastern Michigan for over four decades with state-of-art designs and components for all types of post frame buildings.
Pacemaker's commercial post frame buildings lead the industry in innovation and adaptable design. Their structures are appropriate for nearly any business while offering beauty, flexibility, practicality, and style.
For more information regarding your future commercial post frame building, contact the professionals at Pacemaker at 1-888-834-4448.
You can also complete the simple Contact Us Form on the Pacemaker website, and one of our professionals will contact you to discuss your project in detail.