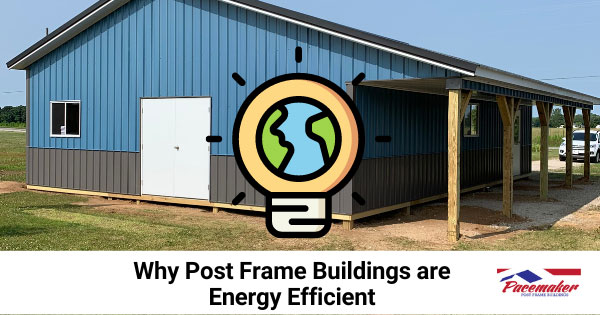 Energy costs continue to rise. Are you planning to build or add space to a barn, workshop, equestrian center, municipal building, or warehouse? In that case, a modern, well-insulated post frame building will reduce energy costs while providing a long-lasting, attractive, and economical solution.
Energy efficiency is one of the many advantages of a modern post frame building. Compared to concrete, traditional "stick frame," or steel framed buildings, the design of post frame structures best accommodates uniform insulation to prevent drafts and energy loss.
Enhanced Insulation Uniformity
A post frame structure is typically supported by several widely spaced laminated columns anchored deep into the ground. Besides providing superior above-grade support, the wide spacing of the columns allows for moisture barriers and insulating material to be uniform throughout the wall and ceiling structure. In conventional frame wood buildings, the upright spacing is much smaller. This creates more breaks and gaps that result in more significant energy loss.
The wood column supports of a post frame structure are excellent insulators, creating an almost impenetrable barrier to energy loss. These perform far more efficiently than highly conductive metal framing members.
Other Energy-Saving Strategies for Post Frame Buildings
Additional energy-reducing and protective measures to ensure the integrity and efficiency of your post frame building include:
Improved Air Barrier
Uniform insulation creates an improved air barrier. This reduces the potential for quantities of moisture-laden air to infiltrate the gaps in the building's envelope. Having fewer gaps reduces the potential for moist air to enter and condense. This reduces the chances of damaging mildew and mold.
Adding a moisture barrier material to the structure's exterior, combined with fewer gaps and breaks, eliminates the potential for moist air to enter the building.
Vapor Barriers
Vapor barriers further reduce the potential for moist air to enter the buildings' walls, attic, or floors. Moreover, vapor retarding membranes made with polyethylene, rigid foam, foil-backed wallboard, and certain paints restrict the potential for moisture transmission within the building.
Proper Ventilation
Air movement and ventilation, particularly in the attic and upper reaches of the structure, will also eliminate moisture accumulation. Additionally, ventilation helps you save energy, particularly in warmer weather. Proper vent openings and deflectors will allow fresh air to enter. The air can then pass across the main areas, and escape through another vent. This activity will keep the roofing material cooler in hot weather, extending the roof's functional life.
Contact Pacemaker Post Frame Buildings
Energy costs are at an all-time high. Therefore, heating and cooling a less efficient building is impractical and costly. A well-designed and insulated post-frame alternative will save money that may be used for other pressing matters.
Pacemaker Post Frame Buildings has been designing, supplying components, and building modern post frame buildings for over four decades from their North Webster, Indiana, headquarters. Providing perfect solutions for their clients throughout Northeast Indiana, Northwest Ohio, and Southwest Michigan, Pacemaker has been a significant player in the evolution of modern post frame buildings.
Visit the Pacemaker Post Frame Buildings Website Gallery to view several of their finished, economic, and energy-efficient structures.
To discuss your current needs, contact Pacemaker at 1-888-834-4448.
Alternatively, you can complete the brief Contact Us questionnaire, and one of the Pacemaker professionals will contact you promptly for a consultation to discuss your needs.