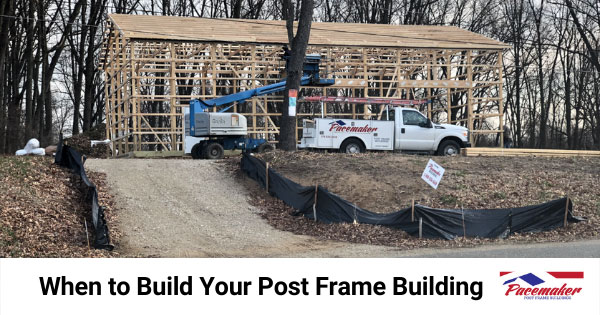 While it is always nice to choose when exactly to build your post frame building, sometimes the need outstrips any seasonal conveniences.
However, there are certain times of the year that are more comfortable to be outside – when it is nicer to complete a construction project. The key is to anticipate your needs and contact a post frame construction professional in advance to schedule the time that works best for you. To help you out with planning, below are some considerations.
Advantages and Disadvantages by Season
Spring
After weathering a long winter, it may be time for your new post frame building to take shape. As the snow melts and the weather improves, this can be a great time to build. In fact, it is often a time of renewal reinforced with a fresh start.
However, in agriculture, you probably already have too much to do at this time of year. Therefore, starting a major project like this can create an extra burden.
Spring is also often the "mud season" in many areas, with snowmelt and multiple spring showers appearing. Mud can be a continual headache, especially when preparing the ground for the construction phase. Vehicle access can also become a problem in most areas during the spring.
On the positive side, professional post frame builders are usually more available in the springtime. Especially since many owners schedule these projects later in the year. So, if you wish to have your project completed in the spring, contact your post frame professionals today.
Summer
Summertime weather is excellent for just about any outdoor project. But, not surprisingly, this is when most people choose to complete their post frame buildings. Therefore, booking ahead with your supplier and builder is absolutely essential. Many post frame companies are fully booked up to 6 months in advance.
When your structure finally takes shape during the mid-summer months, you can plan your landscaping and other exterior features. This enables plants to take hold and mature before the winter comes.

Autumn
For projects that require a measure of work and effort, like building a new post frame building, the fall weather is usually the best. This may sound surprising but, typically, the days are cool and comfortable. There is also a lower likelihood of rain in most areas. Therefore, building your post frame in the fall could be an excellent idea. You should still ensure that you contact your post frame builder in advance to book your build.
If you will be using the new building to store machinery, feed, animals, or as a workshop, getting the job done before the winter weather arrives will protect your assets from exposure to low temperatures.
Winter
The least popular time to build your post frame building is mid-winter. Although the frozen ground is not a severe impediment to earth moving equipment for the site prep, the cold temperatures make working outdoors very undesirable. Imagine how uncomfortable securing a roof joist to the tops of the vertical post must be when the temperature is 10°F. Not to mention the wind whistling by at 20mph. There can also be significant delays during winter due to bad weather and high winds.
Building in the winter is possible in cold climates but definitely not preferable.
Call Pacemaker Post Frame Buildings for Your New Construction
Post frame structures offer the best solutions for your agricultural, suburban, commercial, or civic building needs. Versatile, durable, and economical post frame construction works well for just about any situation.
Pacemaker Post Frame Buildings of North Webster, Indiana, can work with you during any time of the year to plan, design, supply, and build your post frame project. For more than 45 years, the professionals at Pacemaker have dealt with extreme conditions throughout Northeastern Indiana, Southwest Michigan, and Northwest Ohio. They are capable and ready to provide the best solutions for their clients.
Visit the Pacemaker Gallery of past projects to witness the fantastic results Pacemaker has achieved using modern post frame building materials and techniques.
To schedule your consultation with Pacemaker Post Frame Buildings, phone +1-888-834-4448.
Or you may visit the Pacemaker website's Contact Page and complete the brief information form. One of the Pacemaker representatives will contact you promptly.