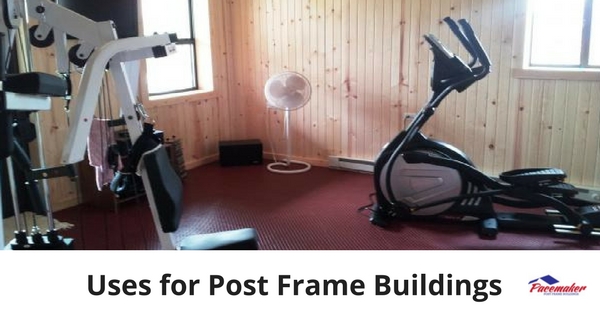 Post frame buildings have evolved from the basic pole barn agricultural structures of the past. Technically sophisticated, durable, and sensible, post frame buildings are solutions for many applications. Today, schools, municipal buildings, fire stations, warehouses, churches, industrial buildings, and private homes are clear evidence of the economy and practicality of post frame methods.
Many believed that post frame structures were only an option for agricultural buildings. Due to the fact that this method allows for at least 6 feet of space between large treated laminated vertical posts. In addition, this open area allows easy maneuvering of tractors, equipment, and large animals. However, the advantages of post frame construction offer significant benefits for many other uses as well.
Aesthetically, post frame designs can incorporate brick, wood siding, and stucco facades. Additionally, just about any architectural feature for a low-rise building can be incorporated. Safe and durable, post frame buildings meet all of the Uniform Building Code Standards (UBC) and International Building Code Standards (IBC) for construction.
Vast, Open Expanse: Warehouses, Retail Space, Barns, and Fire Stations
Interior load-bearing columns used in conventional wood and metal-framed building are significant hindrances when people, machines, and inventory require uninterrupted space to operate. With deeply anchored posts that support broad span trusses and roofing, equipment operators can maneuver in and out of the structure easily, making the building a perfect solution for firehouses and vehicle storage.
Similarly, warehouses constructed with post frame methods allow for rows of uninterrupted racks adequately spaced for maximized inventory and forklift operations. Additional space for storage and offices can be added in the upper area of the roof structure.  Thus may increase the overall functionality of post frame warehouses.
Retailers also benefit from employing post frame construction. Without the vertical beams used in other types of framing, customers and employees can move freely in a bright, well-lighted open space.
Municipal Building Construction
Cities and towns that need new or extended space for their operations are finding that durable post frame buildings meet their needs precisely. Usually, government agencies are pressed for time and budget to add capacity to their activities. Whether the requirement is for a new structure or an add-on, post frame construction often consumes less time from design to completion.
From a budgeting standpoint, post frame requires:
less material
reduced labor
less time
lower cost to maintain
Church Buildings
Churches also need substantial open space to operate efficiently. Post frame churches can be designed to accommodate any configuration. As well as, Changes and additions are straightforward and easy to execute.
School Construction
Many charter and public schools have adopted post frame methods for their new locations. Besides the advantages of lower cost to build and operate, post frame allows for almost unlimited flexibility.
Furthermore, as school populations change, the non-load bearing walls can be moved. Therefore accommodating evolving class sizes and other dynamics. This allows the structure to be an effective long-term option not limited by walls that cannot be moved.
Post Frame Homes
Have you found a terrific home lot that allows for a broad panoramic view? A post frame structure can provide for substantial unobstructed windows looking out from a huge open family room.
As the family size changes, adding or removing walls to accommodate the number of people is simple.
Regarding appearances, post frame homes are as beautiful as any other. In addition, the same exterior features that are available in conventional construction are available in post frame as well.
Check out some of the photographs on the Pacemaker Post Frame website.
Pacemaker Post Frame Buildings
Pacemaker Buildings is a leading producer and designer of post frame components for these economical and sustainable post frame buildings.  Whether you are considering post frame for your business or home, check out Pacemaker's Free Planning Guide to learn more.
Or, call the experts at Pacemaker to discuss your particular projects. Call Pacemaker at (888)-834-4448.