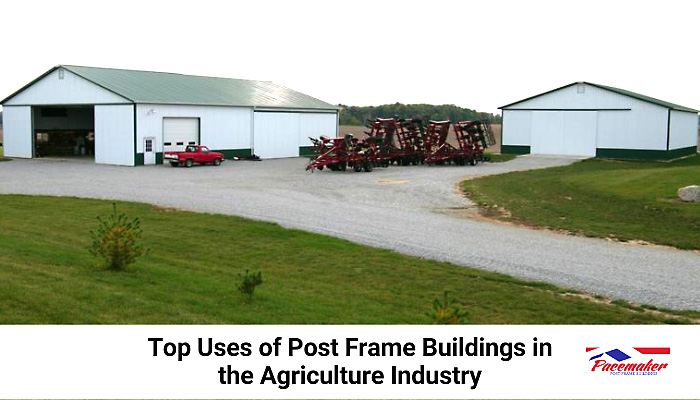 Post frame buildings can be anything you choose. No construction method offers the same versatility, adaptability, economy, or open space as a well-built post frame structure. Post frame buildings are often used in the agriculture industry. And for equestrian, maintenance, and storage-related purposes, these durable buildings are becoming very popular for civic buildings, fire stations, churches, schools, and more.
The abundance of agricultural uses makes post frame construction the most popular choice for farmers, ranchers, and horse or livestock owners and breeders. Importantly, post frame buildings can easily be converted for other uses later, if necessary.
Below are the most popular uses for post frame buildings in the agriculture industry:
1. Farm Shops
A farm shop is the heart of any farming operation. This is where you store, service, clean and repair equipment. Post frame structures also provide ample unobstructed space to maneuver multiple pieces of equipment. They also provide plenty of storage for spare parts, tools, lubricants, and more.
Post frame farm shops are usually constructed with concrete flooring to keep the equipment, spare parts, and supplies clean. In colder climates, building owners add insulation and sometimes incorporate a separate heated workroom to work more comfortably.
2. Multi-Purpose Buildings
Versatile and adaptable, post frame agricultural buildings can perform many functions simultaneously. These structures can also be quickly adapted for new functions or reconfigured for new purposes since no interior wall is load-bearing.
A multi-purpose post frame building might house a farm shop in one section and perhaps a garage or storage room in another. Many incorporate a nicely appointed, climate-controlled office, lounge, or other personal space.
3. Livestock Shelter
Providing a well-ventilated, clean, and safe environment for livestock is an essential function of a well-constructed post frame building. In frigid climates, providing relief from winter cold and snow is also necessary.
Post frame buildings are perfect for equestrian centers and barns. The high ceilings, open space, and flexibility in the interior configuration can accommodate changes in the number of animals being housed.
4. Landscaping and Nursery Storage
Large-scale landscaping companies and commercial nurseries rely on a substantial inventory of machinery, equipment, and supplies to perform their operations.
Besides offering storage and workspace for these in a well-maintained post frame building, servicing and cleaning are also essential. An orderly, well-designed workshop in a post frame building is a critical component of these businesses. Many companies also house their office space and showrooms inside post frame buildings.
Learn More about Agricultural Post Frame Buildings from Pacemaker
Pacemaker Post Frame Buildings; a family-operated business located in North Webster, Indiana, has been a leader in post frame construction and technology for over four decades.
Serving clients in Northeastern Indiana, Southwest Michigan, and Northwest Ohio, Pacemaker Post Frame Buildings will provide insights and even create the design for the structure to match the client's needs. Pacemaker will supply all building materials and custom parts and can oversee the construction.
Visit the Pacemaker website to learn more about their creative solutions while viewing their gallery of beautiful, multi-functional agricultural and other buildings.
To discuss your needs or seek answers to your questions, call Pacemaker Post Frame Buildings at 1-888-834-4448.
Or you may complete the brief Contact Us form, and one of the Pacemaker Post Frame professionals will contact you.