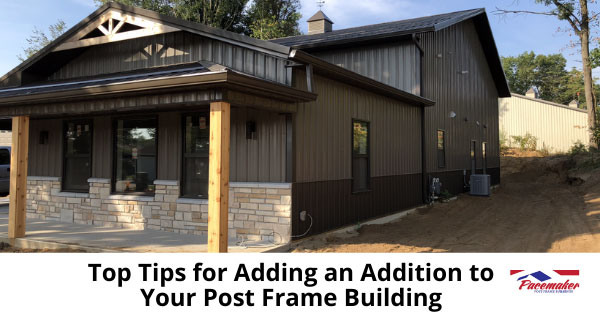 Post frame buildings are undoubtedly the easiest for adding on a new addition if you have the available real estate. The efficient use of materials and labor result in shortened design and build time. Therefore, a new addition to your post frame building will complement the existing structure, add space, and functionality in less time.
Considering a New Addition
It happens – you build your structure, and it is perfect for your needs. But, over time, no matter how far ahead you planned, your business or farm needs to grow, perhaps even faster than you expected. You realize you must add more space for work or storage.
Is adding on to your existing building a practical and affordable solution? It can be. Working with a reputable, experienced post frame company, you are able to sketch out your dream addition. Making sure to incorporate all additional storage, operating space, offices, and spare rooms that you now need.
Note that a post frame addition can also be a sensible and economical solution for adding on to other types of construction.
Adding an Addition to Your Post Frame Building
Here are three considerations to discuss with your design professional regarding a new post frame addition:
1. How will the addition best fit on the existing lot?
To determine which direction your addition should be facing,  consider how the existing structure is placed on your lot. As well, consider how it will be accessed.
First, understand local codes and regulations to determine how closely your building can approach your lot boundaries and other possible restrictions
Next, identify the optimal connection point of your existing building and the addition. Ideally, the new addition will require minimal rearrangement in your current buildings.
Connecting your existing structure to the addition is much simpler than with other types of buildings. Due to the wide spacing of post frame vertical posts.
What about access and approach? With the new addition, will trucks and other equipment still be able to access the overall structure without excessive maneuvering?
Finally, drainage is an essential factor. Assure the ground around the new structure is appropriately graded to ensure moisture drains away from the entire building.
2. Putting Additional Stress on the Existing Structure
If the addition is dependent upon the existing building for support, you may be creating undue stress on the original support system. Lean-to's or additional openings that are not built with support elements can redistribute weight and pressure that can cause problems.
Consult a structural engineer to determine if your design might create a bigger issue. In most instances, your post-frame building addition design should integrate its own support elements.
3. Upgrading the Appearance of Your Overall Structure
Your enterprise has grown, and you should present an attractive appearance and image for your building. A well-designed post frame addition should not only enhance the original structure but also improve the appearance of the entire combination.
The new section should blend seamlessly with the existing structure. Rooflines, exterior materials, colors, and patterns should coordinate to make the entire building appear that it was built at the same time. You might also consider upgrades to the original exterior during the new construction.
Post frame buildings can incorporate features, materials, colors, and styles similar to other types of buildings. While you are upgrading the functionality and appearance of the interior of your building, consider upgrading the exterior a priority as well.
Contact Pacemaker Post Frame Buildings
We are headquartered in North Webster, Indiana. Therefore Pacemaker Post Frame Buildings is ideally situated to provide materials, design, construction management, and equipment for professional post frame buildings in Northern Indiana and Southwestern Michigan. In addition, we have over 40 years of experience in the industry. And Pacemaker has been instrumental in the evolution of post frame materials and techniques that encompass far more than pole barn construction.
Today, post frame buildings are an economical choice for businesses, municipalities, schools, churches, equestrian centers, warehouses, residences, and more. You may view several of these applications in the Gallery section of Pacemaker's website.
Speak with an experienced professional about your building needs or regarding an addition to your existing structure. Contact Pacemaker Post Frame Buildings at +1-888-834-4448.