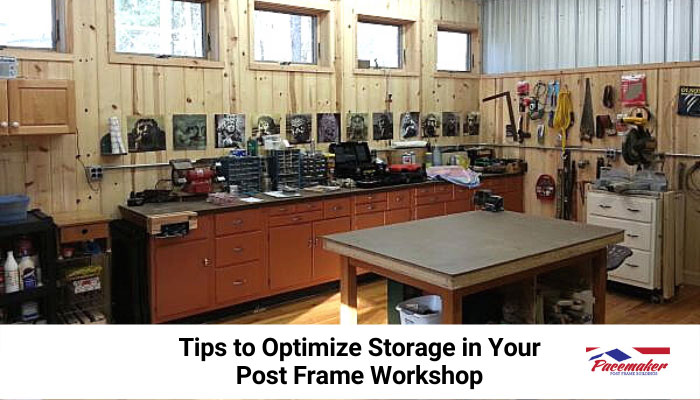 Modern post frame buildings are perfect for many applications. Therefore, storage is always a primary focus in building design, whether for a barn, equestrian center, or equipment and vehicle workshop. Here are tips to optimize storage in your post frame workshop.
While demands change over time, owners should carefully ponder what storage space they will require and how to provide the most protection in the winter months. The following tips will help you decide what you need.
Optimize Storage in Your Post Frame Workshop
Post frame buildings make excellent storage facilities since the design and construction process is relatively simple. You can even build it to fit various needs. Modifying the configuration later is also possible in most instances, although getting it right the first time is always best.
What Are You Storing?
Post frame structures are perfect for storing large equipment and vehicles year-round. The unencumbered space within allows for easy maneuvering and placement.
If you need to store supplies like hay and animal feed, a post frame structure with accessible lofts or storage bins protects the material from the cold and moisture. Custom shelving also allows easy access without taking up too much floor space.
Quantity and Size of Stored Items
If you need space or multiple vehicles and pieces of large equipment, make sure your floor space will accommodate the entire group at once. Also, consider that replacements may be larger than the current pieces. Thus you should add additional square footage for this possibility. For the same reason, make sure your equipment access door is large enough for the current and future equipment to pass through easily.
The weight of your stored equipment will also factor into the strength of the flooring and access.
Are items stackable? If not, you may need to allow for extra floor space or racking.
Also, if you will be storing in an upper area or loft, make sure the access is wide enough to move the items in and out easily.
Determining the Shape of the Post Frame Building
The construction site and ease of access may determine the actual footprint of the post frame building. The owner may choose to achieve the desired footprint or even enhance the aesthetics by designing an L-shaped or somewhat elongated structure to optimize interior storage space.
Is Insulation Necessary?
Insulation and energy control may be an issue depending on what you wish to store. If part of the structure will be a workshop or office, you will likely want temperature controls. In areas where winter and summer temperatures may reach significant extremes, insulating a post frame building is a practical solution. Radiant floor heating is always an option for keeping the post frame building comfortable while protecting temperature-sensitive storage items.
Adding Shelving
Shelving is an excellent solution for optimizing floor space. Consider storing smaller items like spare parts and tools that may require easy access on shelves. Shelf systems utilize vertical space while saving floor space for those oversized items and equipment.
Add a Loft or Mezzanine
Functional space above saves floor space for oversized items. These areas are perfect for storing small portable items. You can also create a temperature-controlled office or restroom away from all the equipment and inventory.
Pacemaker Can Design and Build Your Post Frame Building to Meet Your Needs
With over four decades of post frame building experience, the professionals at Pacemaker Post Frame Buildings in North Webster, IN are prepared to help building owners determine their requirements. The designers will create the perfect executable design for the future. Pacemaker also supplies the post frame materials and will construct a post frame building to accommodate the clients' needs for generations to come.
To learn more about post frame building construction, visit the Pacemaker website to see some of the remarkable past post frame projects.
For more information about the design and build of a high-quality post frame building, contact the experts at Pacemaker at +1-888-834-4448.