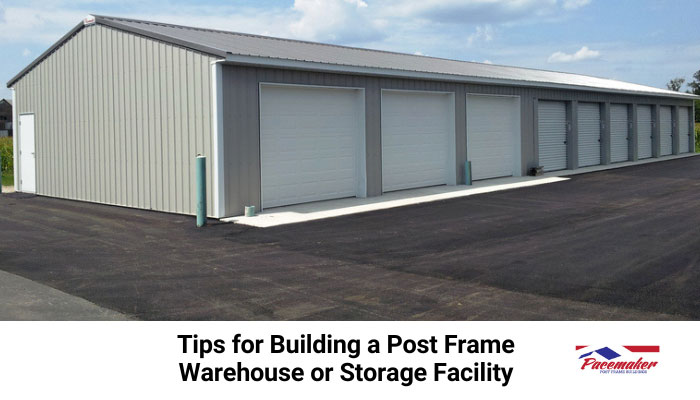 Post frame warehouse or storage facilities come in various shapes and sizes and are utilized for many purposes. This can be a smaller structure or a more spacious bulk facility that houses a multitude of different products.
The first decision is to identify what you need while keeping in mind that extra space may eventually be necessary. Fortunately, post frame buildings offer flexible design and can even be expanded more quickly. That is assuming you have left enough property space for an expansion.
Let's consider the process for building a post frame warehouse or storage facility.
The location of your warehouse or storage facility is essential for many reasons. After all, placing your building somewhere difficult to reach can be troublesome and cause transit issues. The site should be relatively close to the target market, adequately zoned, and easy to access.
1. Identifying the Location
Positioning your building for access and growth is also essential. Vehicles that are accessing the facility should have a straightforward approach with plenty of space to maneuver with easy access and egress.
Remember to leave some room for expansion as needed since the demand for a well-located facility will likely need a timely expansion.
2. Planning Your Building Size
Planning the size of your building can be a challenge. Depending on your needs and budget, the size can vary significantly. Consider how much product you need to store and take into account business growth.
If the storage facility or warehouse is designed to ship products to other locations, you must also have space for picking and packing. With advances in picking and product-moving equipment, this doesn't need a huge amount of space. However, you should ensure the walkways and aisles are large enough for forklifts and employees. With a post frame building, nearly the entire interior space can be usable.
3. Making the Facility Workable
The access and areas around the entrance to the building should be easy for large vehicles to use. When oversized vehicles are accessing the facility, the area surrounding the post frame building should have enough space to operate and ample surface material to maintain the extra weight. Remember that you may have several vehicles at a location at the same time, and you will need space for all of them.
4. Consider Doors and Access
Access must be sufficient if large vehicles are approaching, unloading, or even entering the structure. Accommodating these may also mean extra-wide doorways and additional space. You may also want to consider several entrances.
5. Climate Control
If your facility will store perishables or other inventory requiring colder temperatures, adding refrigerated space is essential. You may also consider proper air-conditioning and heating for employee comfort. This is an additional upfront cost but will save money in the long run if you have properly insulated the building as well.
6. Aesthetics
If you are upgrading your post frame warehouse or storage facility to meet local standards or satisfy your aesthetic preferences, consider adding other features to the building. You might think about wainscoting with masonry or wooden features. Additional features like gables or alcoves can make the building look more attractive and permanent.
7. Security
Finally, locks, cameras, and sufficient lighting can help with security concerns. Lights placed appropriately will reveal any potential intruders. Additionally, these lights can add to the appearance of the building.
Contact Pacemaker Post Frame Buildings
A leader in post frame construction, Pacemaker Post Frame Buildings has been providing innovative and valuable solutions to customers in Northern Indiana, Southwest Michigan, and Northwest Ohio for over four decades.
This family-owned business in North Webster, Indiana, can assist you with your project by helping you design the building, supply the parts, and even provide the construction.
Visit the Pacemaker Post Frame Buildings website to see the many creative and beautiful solutions they have worked on in the past. You will see the many agricultural, commercial, equestrian, suburban, and other projects.
Arrange a consultation with one of the Pacemaker professionals to discuss your ideas by calling the Pacemaker office at 1-888-834-4448.
Or you may complete the easy Contact Us Form, and one of the Pacemaker specialists will contact you promptly.