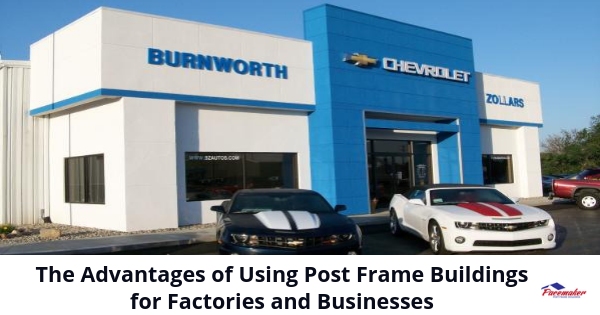 Many businesses, especially newer ones, are looking for the economical and appropriate space to conduct their operations. With business growth as a core objective, business managers continually review and assess the requirements for a successful expansion, hoping that they can move before their existing facilities interrupt operating efficiency.
The optimal solution, particularly for factories and many businesses, is to have a facility that is:
Custom designed for efficiency and growth
Whether your business requires individual office spaces, wide-open retail space, room for ample and easy-to-access storage, or a combination of these, post frame buildings can accommodate many configurations without having to work around load-bearing walls and other interferences.
Adaptable to changing demands
As your company grows, existing post frame buildings within can be reconfigured to adapt to changing conditions.
Easily expandable
Adding space is easier than with conventional structures because of the widely spaced vertical support columns.
Durable
In high wind areas, building a structure that is proven to withstand severe wind damage and flying objects is essential. Specifically, in hurricane and tornado-prone areas, structures need to be built to last.
Attractive
The reputation of any business starts with the appearance of their facilities. A beautifully clad, designed and landscaped business facility or factory will create the best impression. Thus help to gain acceptance in the community.
Affordable
If expansion to accommodate growth requires a sizeable investment, further growth may be curtailed.
Post Frame Buildings Provide the Best Solution for Growth
Adaptable, Flexible, Durable, Attractive, and Affordable
A well-designed post frame building often minimizes interior load-bearing walls and pillars. The weight of the roof is borne by the sturdy pressure-treated vertical wooden perimeter columns. These columns are anchored at least four feet into the ground. This configuration leaves an unobstructed open area perfect for a variety of uses. From offices, retail shelving, production areas, and storage, to the ease of maneuvering for people and equipment.
One of the most important features for a growing enterprise is the ability to shift partitions and equipment to accommodate higher volume and greater efficiency. Due to eight-foot or greater spacing between the vertical posts, makes it easy to add post frame additions.
The widely spaced and deeply anchored wooden posts of a post frame building redirect wind load forces. Forcing them directly into the ground. Conventional construction is more likely to "shear off" at ground level where it attaches to a foundation during severe wind storms. After heavy storms, some post frame buildings have remained standing while other buildings in the area were leveled.
A post frame building can have the same architectural features as overhangs, dormers, porticos, and more as standard-built structures. In addition, any exterior cladding like brick, wood paneling, stucco, wainscoting, and more is possible. Many people find that stylish post-frame-built home is an excellent option. Especially when panoramic vistas and open spaces are to be enjoyed.
Post frame construction often requires less time to build, more efficient use of materials, and labor to assemble. The time from plan to finish for many post frame structures has been one-half the time spent for a conventional stick or metal frame buildings.
Many of the components can are pre-built and fitted, thereby eliminating the waste that is of usually part of a normal construction project.
Contact Pacemaker Post Frame Buildings for More Information
Pacemaker Post Frame Buildings is the Midwest's leader in post-frame construction. Strategically located in Northern Indiana, Pacemaker is a manufacturer, supplier, and builder of top-quality post frame buildings and components.
Manufacturers and businesses should contact Pacemaker before making a final decision on any new facility. Post frame buildings meet all the criteria for any growing business, and Pacemaker can help you to make the right choices.
Visit the Pacemaker Post Frame Building website gallery to view some of the remarkable and practical structures built for a wide range of applications.
Also, on their website, Pacemaker offers their free downloadable Guide Book for planning a new building.
If you have questions, visit the Contact Us page of the Pacemaker website with your contact information or phone 1-888-834-4448.