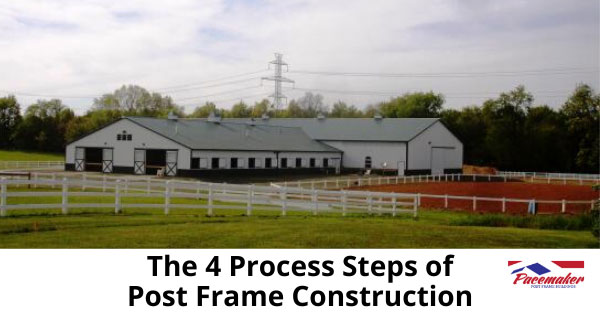 Post frame construction is quickly becoming the preferred construction technique for a broad range of applications. Built for versatility, durability, and economy, post frame buildings provide many benefits over traditional structures. Let's review the 4 process steps of post frame construction.
Modern post frame construction methods and materials are ideal for industrial, retail, municipal, agricultural, and suburban structures.
All post frame construction projects require four process steps from the initial brainstorming session to the final walk-through.
Steps of Post Frame Construction
1. Planning and Processing
Suppose you have decided to build a new equestrian center. You want plenty of stables, wide aisles, a tack room, and perhaps an indoor riding area and an office. Post frame construction is perfect for this, as this method allows for large unobstructed spaces. Post frame buildings also provide plenty of ventilation, ample lighting, dust control, and more.
During the preliminary phase, you will meet with a Project Manager from your preferred post frame construction company. This expert will help create an initial plan that incorporates all your needs and expectations. They will also propose a potential work schedule, and outline the estimated cost and payment schedules.
Additionally, your Project Manager can help you:
Target a start date
Make adjustments to the specifications
Finalize a design
Begin the permit process
Create and review a final contract
During this phase, you should work on financing, if it is needed.
Finally, the post frame company will complete a design for your approval that will be sufficient for applying for the building permit.
Site preparation may begin at this point. Which, with post frame construction, usually means clearing and leveling the proposed construction footprint.
2. Permitting and Scheduling
You will submit your plan and design to your local governing body, either the city or county department, for permission to proceed. The agency will review your plan for compliance with the local ordinances and zoning requirements. If your project is approved, they will issue your building permit.
Next, you will share the building permit number and financing status with your post frame construction company to begin the project by:
Inspecting the site and making final preparations and floor elevations
Creating the final construction drawings
Scheduling work phases
Ordering all building materials according to the plan
3. Target Start-Up
The start of construction will depend on the delivery time of construction materials and crew availability. With years of experience in designing and building post frame structures, companies like Pacemaker Post Frame Buildings can project and maintain schedules efficiently.
A final inspection and adjustments to the site preparation will be conducted. However, the contractor may make a few changes to accommodate drainage and other potential trouble spots.
Once the building materials arrive at the construction site, the crew will inspect them. Therefore, this ensure that the construction phase may run without delays.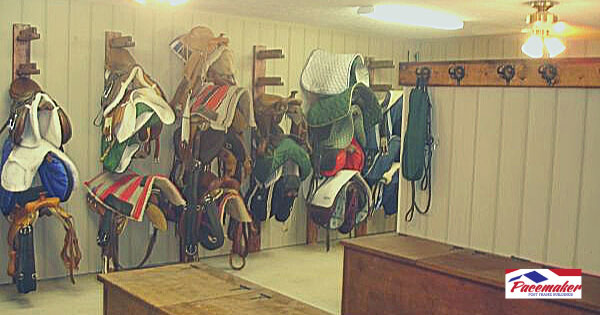 4. Construction Process
With the site prepared and all necessary materials on hand, the project foreman and crew can begin to build your equestrian center.
Because of the simplicity of the design and the convenient availability of pre-measured materials, the construction phase for post frame buildings moves quickly. The post frame building process relies on sturdy, deeply embedded vertical posts for structural integrity. This eliminates the time-consuming framing and foundation pouring that conventional wooden structures require.
In many instances, post frame buildings require less construction time compared to other building methods.
The final step of post frame construction will be your walk-through. Together with the construction supervisor or your project manager,  to view your beautiful new post frame building.
Contact Pacemaker Post Frame Buildings
Having four decades of proven experience, family-owned Pacemaker Post Frame Buildings is a leader and innovator in post frame construction. From their headquarters in North Webster, Indiana, Pacemaker is the premier post frame designer, manufacturer, and builder for clients throughout Northern Indiana, Northwest Ohio, and Southern Michigan.
Visit the Pacemaker Post Frame Buildings website to learn about the company and view some of their recent projects shown in their Gallery.
If you are looking to build a new barn, school, firehouse, warehouse, or residence, contact Pacemaker for a no-obligation consultation at 1-888-834-4448.