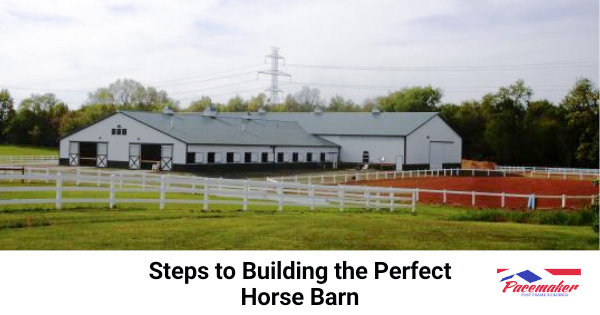 Horse barns and equestrian centers demand a particular set of requirements to ensure the health and safety of the animals and their owners. Considering each element during the planning stage is crucial to ensure the necessary components are in place. Here are the steps to building the perfect horse barn.
Elements to Consider
How much space will you need? Consider the storage, tack room, and an office with a bathroom and possibly even a shower area for humans. How many horses will the structure design support? Can you justify an indoor arena and exercise area when lousy weather arrives?
What type of heating and cooling systems may be necessary to keep the interior comfortable in any season? How much insulation is needed? These are all questions that need careful consideration before starting to build.
Consult with a Post Frame Professional to Develop the Plan
Before investing any money in the project, the first step is to consult with an experienced post frame professional in your area. This allows you to list your requirements, determine the size of horse barn you will need, choose the best location, and investigate all local code restrictions that may be in play.
With the help of an experienced post frame professional, you can incorporate these inputs into a plan for a long-lasting, economical, and energy-efficient horse barn that should meet your needs for decades.
A reputable post frame company with decades of experience will help you create the right plan. They'll also provide the necessary staff to prepare the site for proper drainage, and even execute the construction.
Exterior Considerations
The plan should include your vision of how you would like the structure to look. This may even complement the adjacent architecture, home, and other structures.
Precise location, spacing, and directional orientation will be critical elements during the build process. Careful attention to maneuvering space for animals and equipment are vital considerations at this point.
Make sure electricity and water are available. Additionally, if an office is necessary in your equestrian center, will internet and cell phone service be available?

Interior Considerations
Ensuring you have sufficient space inside to accomplish what you need to is also essential. Horses and humans must have room to maneuver, saddle and unsaddle, store all necessary tack, medicines, and short-term supplies. Not to mention the requirement of easy access for cleaning stalls and interior areas.
The standard recommendation for any horse stall should be at least 12' by 12' for a 1000 lb. horse. Larger horses may require a 14' x 14' space or more, according to Equine Facility Design.
Is Expansion a Possibility?
Horse lovers often end up expanding their herd over the years. At the outset, you may choose to add a few stalls to the plan. After all, these are helpful for shifting animals around while cleaning or for other reasons.
Expansion is frequently inevitable, thus, make sure your initial site plan allows ample space for adding to the initial post frame horse barn. With post frame construction, adding on is far easier than with many other building construction methods. This is because of the wide spacing between the vertical posts.
Make Sure You Have the Necessary Permits
Consulting with your local authorities to get permits for new construction will help you get underway sooner and avoid delays. Your post frame builder/expert will also know what needs to be in place before starting.
Contact Pacemaker Post Frame Buildings
Representing one of the region's top post frame supply and construction companies, the Pacemaker Post Frame Buildings professionals can help in each step to create the ideal post frame solution for horse owners. Whether for a simple but highly functional two-horse stall setup or a more expansive multi-faceted equestrian center, the Pacemaker Post Frame Building experts can help with each step in the process.
Located in North Webster, Indiana, Pacemaker has provided high-quality, durable post-framer buildings for over four decades to clients in Northern Indiana, Northwestern Ohio, and Southern Michigan.
Visit the Pacemaker Gallery on their website to view some of Pacemaker's equestrian projects.
For more information and to discuss your next project, contact Pacemaker Post Frame Buildings at 1-888-834-4448.