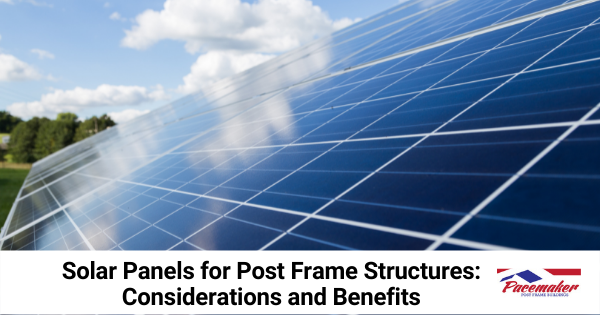 You have already made an outstanding economic choice by choosing a post frame building for your agricultural, equestrian, commercial, or suburban structure. You also have a terrific opportunity to add to your energy savings by adding highly efficient solar panels to your post frame structure. Solar energy continues to grow as a reliable and sustainable energy resource worldwide. Today, homes, businesses, municipalities, and farms are installing highly efficient solar panels to replace or supplement their current power needs.
Installing high-quality doors and windows plus ample insulation throughout can also help to conserve energy. This improves energy costs and reduces the carbon footprint. This also allows the solar panels to fully power the post frame structure in some cases.
How Do Solar Panel Installations Work?
Solar panels are made up of photovoltaic cells that convert sunlight to electrical energy. This energy can power your building, or you can transfer it to the power company's grid for credit. The more sunlight the panels receive, the more energy is converted, reducing the total cost of powering the building.
Over time, any initial outlay for the installation will be offset by reducing energy costs, particularly as those costs continue to rise substantially.
Don't Forget the Tax and Other Incentives
Tax credits, both federal and state, are available with solar panel insulations. For example, according to energy.gov, the U.S. Congress enacted legislation that grants a 26% tax credit for solar systems installed between 2020 and 2022. Furthermore, the current law allows a 22% credit for 2023 installations.
Similarly, most states offer incentives to install solar-powered systems, with rebates or reduced power bills. Even local power companies in many areas are offering financial benefits for renewable energy. The rationale is that solar panel systems in the regions help to save them considerable money. This is primarily through a reduction in pressure on the power grid and forestalling the need to expand power infrastructure.
Collectively, these benefits reduce the initial cost of installing solar panels on a post frame building by a substantial percentage. As a result, the "break-even" for the installation will come much sooner than you think.
Metal Roof Advantage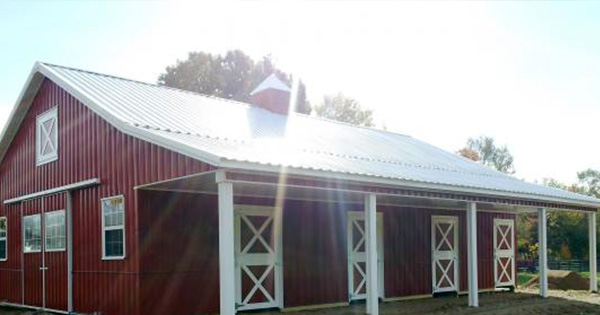 Installing a metal roof on your post frame building is excellent for solar panel installment. The longer-lasting, durable material can accommodate solar panels for fifty years or so without removal. Asphalt or other roofing materials require taking the solar panels off to replace the roof as required.
Evaluating the Solar Panel Process
Building Location
The first consideration is to determine whether solar panel installation will work on your post frame structure. Ideally, one dominant side of the building should face south without trees or buildings obstructing it. Since the sun passes from east to west in the southern sky in the Northern Hemisphere, orientation is essential for maximum sunlight.
Structural Design
Before moving forward on your energy and cost-saving project, consult with your post frame building expert and local building code officials. This is to ensure that the roof structure is sufficient to bear the additional weight load. Calculations are necessary to determine whether the roofing structure (trusses, purlins, fasteners, and other components) can handle the extra weight plus the snow accumulation that may occur in the winter.
Consult with Pacemaker Post Frame Buildings
Pacemaker Post Frame Buildings, a longtime designer, component supplier, and builder of high-quality post frame buildings in Northern Indiana, Southwest Michigan, and Northwest Ohio, strongly supports adding solar panels to reduce the energy costs for maintaining their buildings.
While the company does not supply solar panels and parts, they can help with the design and preparation for the installation.
Based in North Webster, Indiana, the Pacemaker Post Frame Buildings professionals are always available for consultation regarding the many advantages of modern post frame buildings.
To learn more and to view many of Pacemaker's past installations, visit the Pacemaker Post Frame Buildings website. Or you can call Pacemaker to discuss your ideas at +1-888-834-4448.