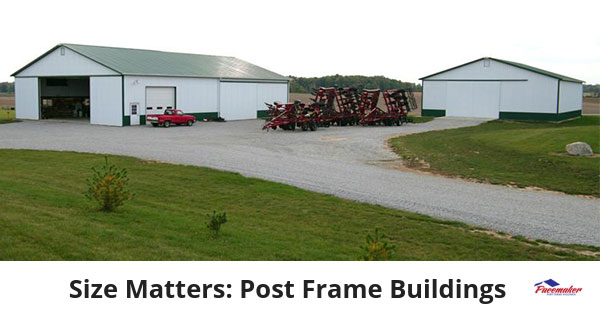 Post frame construction is the ideal solution many types of municipal buildings, warehouses, retail outlets, and more. Also, post frame buildings are a great solution for agricultural, equestrian structures, and fire stations. This building method allows economic and environmental advantages. Post frame buildings offer wide open, uninterrupted space without interior columns or barriers. Therefore, the movement of people, animals, inventory, equipment, or vehicles is made easy.
The load-bearing support for a modern post frame building is from substantial, widely spaced, treated wooden vertical columns around the outer walls. The roof structure consists of specifically designed and fitted trusses that are securely attached to the tops of the vertical columns. Consequently, this method allows the structure to withstand wind and weather conditions.
As a result, a post frame building is energy efficient and durable. Post frame buildings also allow the free movement and storage of large vehicles, animals, and merchandise without obstruction or interference.
Maneuvering within the building is simple and the line-of-sight is continuous.
Uses for Large Post Frame Buildings
Some common uses for larger post frame buildings in which clear open space is crucial for operations are:
Dairy buildings
Livestock confinement
Bulk storage and storage units
Manufacturing space
Warehouses
Churches
Retail space
Equestrian stables and barns
Equestrian training facilities and riding arenas
Workshops and Garages
Educational facilities
Fitness Centers and gymnasiums
Schools and office buildings benefit from the flexibility of post-frame construction. Because of the open space and the elimination of load-bearing walls, configuring and reconfiguring interiors is easy. Thus accommodating change and growth.
How Large Can a Frame Structure Building Be?
Eventually, most building owners will lament that they should have built a bigger structure to accommodate growth and changing needs. A post frame construction can generally clear span up to 80'.
The durability of Post Frame Buildings
The principal elements of post frame buildings are the specially treated vertical laminated posts. These posts are six or more feet apart and anchor at least four feet into the ground. The advantage of this type of construction is that high wind and weather forces are directed into the ground. Conventional "stick-frame"  structures secure at ground level to a foundation or basement. Additionally, these are more vulnerable to shear forces in high force winds. In many instances, post frame structures survive catastrophic conditions while nearby conventional buildings suffer heavy damage.
Adaptability of Post Frame Buildings
Post frame structures can be maximized to the sized building site. Driven by zoning requirements and the configuration of the lot, owners can build to yield the maximum square footage available with the flexibility of post-frame methods. And, as mentioned, additions are simpler given the wide spacing of the vertical columns.
Contact Pacemaker Post Frame Buildings
Experts in the field of post-frame materials production and construction, Pacemaker Post Frame Buildings is keeping pace with the rapidly growing demand for high-quality post frame buildings. Advantages like open and clear space, time-to-completion, efficient use of materials, expandability and adaptability, affordability, durability, energy savings, and sustainability are driving more companies, municipalities, and individuals to adopt this type of construction.
If the size and flexibility of your new building are important, contact Pacemaker Post Frame Buildings to discuss ways that post-frame construction can benefit.
Visit the Pacemaker Buildings gallery for examples of the many potential applications, large or small, of a post-frame building.
If you have questions, visit the Contact section of our website.