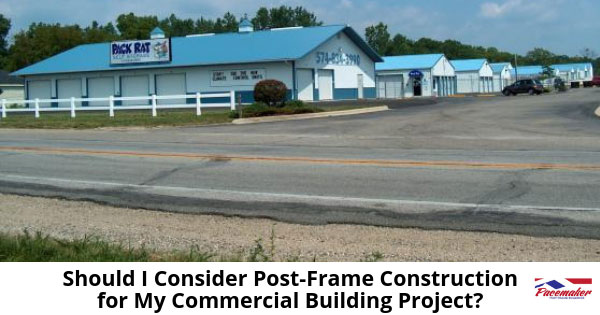 Post frame buildings provide some significant advantages for commercial building projects. The open space within, without the obstructive loadbearing supports of conventional construction, a post frame building is perfect for:
Retail space
Warehouses
Office and storeroom combinations
Equipment storage
Showrooms
And, more
As post frame techniques and materials continue to evolve, the commercial building industry is adopting more post frame construction methods for new projects.
Advantages of Post Frame Construction for Commercial Building Projects
While the already noted unobstructed space is a distinct advantage for allowing natural movement and clear, uninterrupted sightlines within, post frame buildings come with many other advantages over conventional construction.
Appearance
In any situation, you first need to check your local codes and building regulations to determine what is appropriate for any structure.
How the building will look depends on you. Post frame itself is a framing method for single and two-story structures, not a cladding. Post frame structures may have any exterior you choose, options include wood siding, brick or concrete, steel, or stucco. Any outer material that pleases your taste or matches the surrounding architecture is possible.
Other architectural features are also possible. Easily build alcoves, dormers, and entryways according to your preferences.
Moreover, by adding imaginative landscaping, your post frame structure can be the best-looking building on the block.
Unobstructed Interior Space
One of the benefits of a well-designed post frame structure is the absence of those load-bearing columns and posts. These features often restrict movement and interfere with sightlines. Thus this feature solves retailer and warehouse operator demand for unobstructed, open space. This helps to manage their businesses effectively.
This advantage is particularly important in commercial applications where equipment is needed to move supplies and inventory within.
Furthermore, you have a choice of interiors in a variety of styles, from industrial to contemporary.
Durability
New post frame buildings are durable and last. In the aftermath of some high winds and tornadoes, post frame buildings often survive the pounding that conventional structures cannot.
Because the vertical structural supports are embedded at least four feet below ground level in a post frame building, the energy from tornado-force winds are diverted deep into the ground below. Conventional structures attached to a foundation at surface level are more vulnerable to horizontal wind forces where the connection is at ground level creating a sheer point above grade.
Adaptability
Businesses grow and their needs often change. In a post frame building don't have interior load-bearing supports. Therefore, retail, warehouse, and office spaces can be modified to accommodate future needs. As a result, walls and interior doors can easily be moved to accommodate change and growth.
Because of the large spacing between the vertical beams, adding onto and accessing the existing building is simplified. Especially if the physical site can accommodate the change.
For the same reasons, access and egress points can be enlarged or added with less difficulty than with many other types of construction.
Cost and Design
Design-build has become a popular approach to construction and remodeling projects. There are many advantages of using the same company to design, provide materials, and build your commercial building. These include eliminating confusion in converting the design into the finished structure, better communication from start to finish, and reducing costs through efficiency.
A reputable post frame construction company like Pacemaker of Northern Indiana can assist with developing a design of your commercial building that precisely matches your business needs.
Importantly, post frame construction allows for efficient use of materials and labor which often allows for a quicker project completion timeframe.
Contact Pacemaker Post Frame Buildings
For over four decades, Pacemaker Post Frame Buildings have been at the forefront of post frame construction. Located in North Webster, Indiana, Pacemaker serves customers throughout Northern Indiana, Southwest Michigan, and Northeast Ohio with creative designs, top quality materials, and professional building services for modern post frame buildings.
Visit the Pacemaker "What We Create" webpage to see the extensive range of commercial, agricultural, civic, and municipal buildings they have created.
If you have questions regarding post frame construction for your commercial building, speak with a professional at Pacemaker at 1-888-834-4448.