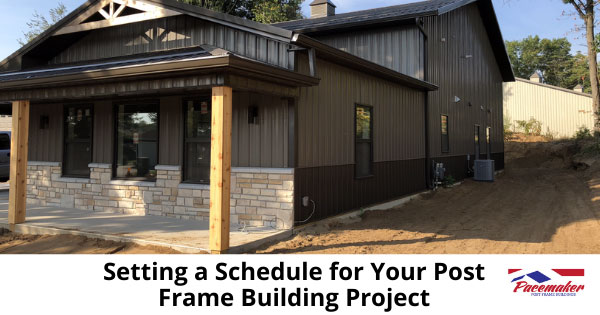 Setting a schedule for your post frame building is usually easier than other building methods. Fewer materials, less labor, premeasured components, and less site preparation shorten the time frame. As a result, many building owners have cut their time-to-completion in half with proper planning and execution. You can also do this by working with an experienced post frame construction company.
Do you hope to build your new building before the snow flies or spring arrives? If so, post frame construction is likely your best and most flexible choice.
Proper planning means working through each step in a timely fashion, not to mention using the correct sequence. Below are three steps for scheduling construction of your post frame building project.
1. Design Phase
The completed architectural design of your post frame building triggers all other phases of your project. Once you have a completed plan, you can set a reasonable timeline for completion.
The design phase should incorporate both your near term and future expectations. Often, building owners are short-sighted during planning to keep initial costs down. Later, many have wished they had built more space to accommodate growing needs.
Fortunately, with post frame construction, adding on can be a relatively simple process. That is assuming the available real estate does not limit expansion.
For best results, work with a proven post frame building company consultant to make sure you have anticipated everything. From future expansion to flooring and design elements. These experts have addressed every question imaginable and can advise each phase of the project. Additionally, your designer should have a copy of the local building codes and restrictions during the design phase.
Depending on changes, the design phase can take anywhere from a few weeks to a few months.
2. Financing Decision
Once the design is complete, work with your professional post frame supplier to establish an accurate cost estimate. With this information in hand, you can decide how to pay for the construction.
Currently, interest rates are at a historic low. Therefore, borrowing can be a financially sensible option, even if you happen to have enough in your savings to pay cash. By financing even part at a low-interest rate, you can hang onto your savings and spread the expense of the new building over an extended period. Overall this means you may be able to afford more for less.
Talk to your lender about your options. You should be able to resolve this element of the process within a matter of weeks.
3. Permit Application
No matter where you are building, the construction needs to be approved before you begin. Depending on the building's use and location, a municipality, county, or other government agency must first approve your plan.
Generally, the application for a building permit requires a site plan, blueprint, and legal description of the property.
Rules and restrictions vary within each jurisdiction. Your location may specify limitations on use, setbacks, building height, or even some exterior architectural features. It may be wise to check these rules before finalizing your design.
While securing the permit may require more time than expected, construction cannot begin until this is approved. With extensive experience and knowledge, your post frame supplier can help you formulate your application to ensure everything moves forward smoothly. However, be aware that this process can take several months depending on your area.
Site Preparation and Construction
Once you have your permit, the building can start. Site preparation requires leveling the area representing the building's footprint. This ensures that the perimeter slopes away to allow for sufficient drainage.
The premeasured posts, siding, trusses, roofing materials, connectors, and other components will be delivered directly to the site. Depending on the complexity of the plan and the labor involved, the entire structure can be grounded and assembled in a matter of weeks.
Contact Pacemaker Post Frame Buildings
Pacemaker, located in North Webster, Indiana, is a premier supplier of components, expertise, and design for all types of post frame buildings. For four decades, Pacemaker has led the industry in the evolution of post frame construction for agriculture, retail, municipal, and residential use throughout Northern Indiana, Southern Michigan, and Northwest Ohio.
You may view some of Pacemaker's most recent projects by visiting their Gallery on the Pacemaker website.
For more information about your next perfect building solution for your business or farm, call Pacemaker Post Frame Buildings at 1-(888)-834-4448.
Or, you can leave your Contact Information, and one of our post frame professionals will contact you promptly.