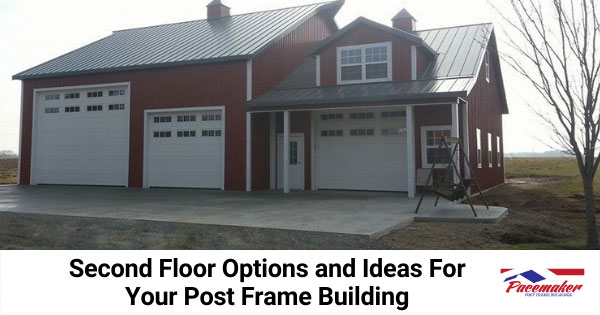 Adaptable and versatile, modern post frame buildings are suitable for nearly all agricultural, equestrian, retail, retail, or civic purposes. Economical and practical, post frame buildings provide uninterrupted interior space that allows for large equipment and vehicles, plenty of storage, and ample workspace. Let's look at second floor options for your post frame building.
Designs for new post frame or pole barn structures may include an upper level or mezzanine. Not only does this optimize the overall space but also adds additional room for storage or privacy.
In many instances, existing post frame building owners opt to upgrade capacity with a second floor. This increases capacity without adding to the existing structure.
Second floor options for your Post Frame Building
As demands increase, space always becomes a critical need. Storage for supplies, inventory, and equipment is usually at a premium. In these cases, a post frame building owner should consider looking up instead of looking around.
Unlike most conventional buildings already limited by their existing height and design, a post frame structure can provide considerable unobstructed space overhead and even between the roof trusses.
A mezzanine is an excellent option. It offers the benefits of additional space for storage, office, or other functions. And it only partially infringes on the vertical volume within the upper reaches of the building. Adding an entire second floor with stairway access could virtually double the available floor space within the building.
Besides additional storage, a second level can provide room for a separate, climate-controlled office, workshop, or man cave. Items that require managed temperature and humidity or protection from exposure to moisture can also benefit from a segregated storage space.
What to Consider When Adding a Second Floor
Structural Integrity
The design should incorporate the necessary support structure to manage the additional load demanded by adding a second level.
Similarly, before improving an existing building, the building owner should consult with a building inspector or structural engineer. This will ensure that the structure can maintain the additional load that an upper level may create. The vertical load configurations of a post frame building are distributed through the robust vertical support beams. Moreover, the columns support the entire roof system and transfer loads directly through the footings and foundation beneath.
Building Codes
Depending on the building type and use, local building codes may define the allowable height and number of stories in any building. Therefore, by working with a knowledgeable in-house designer for a post frame builder and supplier, you will be able to determine what is possible.
Furthermore, to ensure an acceptable result, consult a local building official or authority responsible for your jurisdiction (AHJ).
Design for the Right Height
The interior height of your upper level will depend on the design and style of the structure. Adding an upper floor that does not meet your needs height-wise is an avoidable mistake. Thus a longstanding post frame building supplier like Pacemaker Post Frame Buildings can help ensure the design meets the structural and code requirements. They can also ensure that you have sufficient headroom to make your new space comfortable and functional.
Contact Pacemaker Post Frame Buildings
In Northern Indiana, Southwest Michigan, and Northwest Ohio, Pacemaker Post Frame Buildings of North Webster, Indiana, is a longtime leader in post frame construction. A designer, manufacturer, and supplier of post frame components, Pacemaker works closely to create highly functional, attractive, and economical post frame buildings for every purpose.
To learn more about the possibilities, visit the Pacemaker Gallery to view some of their recent projects. If you have questions, contact Pacemaker at +1-888-834-4448.