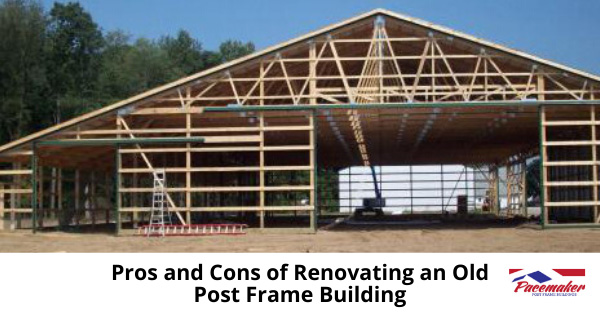 Your aging post frame barn or storage structure has served you well for decades. But now you need something bigger and perhaps you are looking for a more contemporary look. Do you consider renovating an old post frame building, or do you tear it down and start over?
Renovating an Old Post Frame Building
Condition of the Existing Building
Before making the decision to renovate what you have or demolish and rebuild, a formal inspection by an expert is essential. Over the decades, materials and techniques in post frame construction have been improved. Your existing structure must be sound before you can consider a remodel. A thorough inspection of the vertical members and trusses will determine the viability of continuing with the existing structure.
In some instances, rotting members can be reinforced or replaced, but the cost of saving the structure may not be worth the effort.
If the building is sound and the aging appearance is only cosmetic. Renovating or adding onto the original could be your best choice.
Advantages of Renovating the Existing Structure
If more space is needed, you might consider adding on to the existing structure. One of the best aspects of a post frame building is that adding and connecting additional space is often easier than with a stick-frame or masonry building. This is assuming the adjoining real estate allows you to attach a new section. The widely spaced, weight-bearing posts let you connect the old with the new more easily.
Note that adding to the length of the building is far simpler and more cost-effective than trying to widen your existing post frame building.
When adding onto or reconfiguring your building, you might want to consider new roofing and cladding. Additionally, updated landscaping can create a beautiful and uniform exterior.
Your current structure may be stable and only needs an interior renovation. Post frame buildings are the easiest to reconfigure since there are no load-bearing walls within. Consider your current and new floor plans and redesign to make the most of the existing space.
Don't forget that you can also add interesting and useful space in the attic or second floor of your building. These areas are ideal for an office, private den or man cave, tack room, or even extra storage.
Alternatively, if you have given up on your old building, remember there is a cost to razing and removing all the parts. While some components of the structure may be reusable, most will likely need to be hauled away.
When Building a New Post Frame Building is Better
If the original structure is showing its age or the effects of severe weather conditions, a certified building inspection is needed. If the expense of an upgrade and renovation of the old building is substantial or prohibitive, it is best to start over with a custom design.
When starting over in the same location as the old building, site prep should be reduced since the ground will already be level.
You can also enjoy the benefits of newer materials and technology. These will make your structure more functional, longer-lasting, energy-efficient, and more attractive. You can also add exterior features like dormers and alcoves, plus specially designed entries. Adding these can make your new post frame building have a more elegant, appealing appearance.
Renovate or Start Over: Ask the Experts
With over forty years as a leader in the post frame construction industry, Pacemaker Post Frame Buildings in Northern Indiana understands the dilemmas that many building owners face. While having a new structure can be exciting, it can also be costly. If renovation is possible, you may realize the same result with a renovated post frame structure.
The professionals at Pacemaker Post Frame Buildings in Northern Indiana will be glad to discuss the situation with you. As designers, suppliers, and builders of top-quality post frame buildings, Pacemaker understands every element of the business.
For advice and information and to see examples of many successful post frame projects, visit the Pacemaker website.
Or call 888-834-4448, and one of our professionals will be happy to answer your questions.