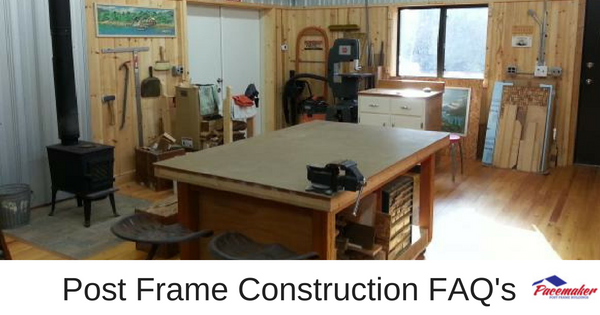 Post frame construction is becoming a popular choice for many different types of buildings. Solid, durable, and economical, post frame methods are being used for schools, municipal buildings, fire stations, farm buildings, commercial buildings, and private residences.
Having overcome misconceptions about post frame building; construction experts and building inspectors recognize that post frame buildings are more efficient, durable, and as attractive as any structure built with conventional methods.
Post Frame Construction FAQs
Where can I find photos of some new post frame buildings?
A quick look at some real-life examples of post frame construction will help to comprehend the versatility and beauty of existing post frame buildings. Two websites, Post Frame Advantage  and Pacemaker Post Frame Buildings  depict the range of applications of post-frame construction. The photos demonstrate several uses, styles, and decorative appointments that are possible.
How is post frame less expensive than "conventional" construction?
There are several reasons why post frame construction is less expensive than any other method of construction. Some of these are:
less time from design to finish
reduced site preparation
more efficient use of material
fewer specialized technicians required
better insulation, less energy used
How long does it take to build a post frame building?
The time to complete construction of a post frame structure is always a function of the complexities of the design and the effectiveness of the coordinated planning that goes into the building. In any case, once the components are on site, the time required to complete a post frame project is far less than with other types of construction. An experienced post frame contractor can complete the entire project in a matter of weeks rather than months.
At the outset, the contractor can begin the process by leveling and preparing the building site. When ready, the builder starts by sinking and anchoring the large solid-sawn or laminated columns into the ground to a depth of four feet. For long-lasting durability, the posts may be protected in concrete piers or sleeves.
The columns are usually spaced six to eight feet apart. In some cases, the vertical beams may be surface-anchored to a foundation of masonry or concrete. Once the framing is complete, the trusses can be positioned, and the siding and roofing materials added.
Can modifications be made to the design?
One of the many advantages of building with post frame methods is the flexibility of design. At any time before and even during the early construction phase, plans may be modified. Changing plans before starting conventional construction usually requires expensive alterations. And, because of the wide spacing between vertical beams, the process of making additions without disruption to ongoing operations is far simpler.
Are the roof trusses built on site?
While roof trusses may be assembled on-site, precision designs allow for each component to be built and then brought to the building site for assembly with the rest of the material.
What types of siding and roofing material can be used?
With post frame construction, builders may apply the same siding or roofing materials that are used for other methods of construction. Since post frame is just another effective method of framing a structure, any other normal protective or decorative elements can be added. Wood siding, masonry, and stucco can be applied to the exterior.
For maximum insulation and energy efficiency, an R-19 installation may be installed in the wall cavities, while R-46 blown insulation may be installed in the attic space.
The gallery shown on the Pacemaker Buildings website demonstrates many attractive applications for commercial buildings of many types. Check these out.
Save
Save
Save