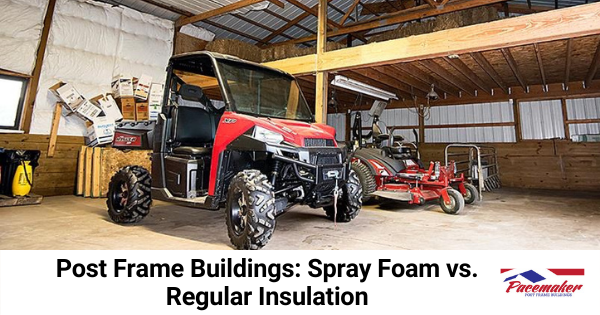 Should you use spray foam vs regular insulation for your post frame building? One of the proven benefits of a modern post frame building is how energy efficient it can be. This is due to a more uniform insulation application throughout the walls and ceiling. The uniformity is possible due to the relatively large distances between the vertical wooden columns. This offers fewer interrupted "breaks" that allow energy to escape.
Having established that post frame buildings are highly energy-efficient, the owner's next question becomes: "Which insulation is best for my post frame building? Would it be blown closed-cell spray foam or maybe another type like foam board or fiberglass?"
Types of Insulation for Post Frame Buildings: Spray Foam vs Regular Insulation
Effective post frame insulation will maintain temperatures within the structure. This can even help to extend the life of the building and its contents. Whether all or part of the post frame building becomes a workshop, equipment storage, or even an office or man cave, proper insulation helps maintain a comfortable environment. This keeps everything working better and safe from temperature changes.
Three types of insulation are common for modern post frame buildings: spray foam, foam board, and fiberglass batting.
Spray Foam
Closed-cell Spray Foam is a durable option when applied to the interior wall of a post frame building. This material resists damage caused by contact with forklifts and other equipment. It is also resistant to rodents and other pests. The spray foam material is fire resistant and environmentally safe.
Spray foam creates a secure air seal that stops energy from escaping. This is the most durable insulation and is water-resistant. Therefore, there is no risk of mold development. When applying between the exterior and any interior walls, spray foam insulation is very effective. It can even add to the long-term durability of the building. However, spray foam is more expensive to apply and you should always hire professionals for the installation process.
Foam Board
Consisting of rigid, prefabricated panels of insulating material, foam board can be applied to the interior spaces between vertical posts. While this installation can be a do-it-yourself project, sizing and inserting the material requires carpenter-like precision to be effective. Any seams or joints between the foam board sheets must be carefully taped to eliminate undesirable airflow and energy loss.
Foam board is water and mold-resistant. When produced with expanded polystyrene, it is also HCFC-free and environmentally friendly. However, some types of foam board can begin to deteriorate over time and become less effective. Ensure you carefully research your options, or discuss with your builder before purchasing.
Fiberglass
Fiberglass insulation is the most traditional option and is in millions of homes and buildings. This material consists of plastic reinforced with tiny glass fibers. As a less expensive option, do-it-yourselfers often install fiberglass themselves. The material, however, can cause skin, eye, and nose irritation, so wear gloves and masks while handling.
This material does admit moisture, thereby allowing the possible development of mold over time. However, if it gets wet, replace it immediately.
Working with the Experts
The professionals at Pacemaker Post Frame Buildings in North Webster, Indiana, will advise the best option for insulating your post frame building.
Pacemaker specialists have advised, designed, and supplied clients throughout Northern Indiana, Southern Michigan, and Northwestern Ohio regarding every type of post frame building solution for over four decades.
You can see some of Pacemaker's beautifully completed post frame projects by visiting the Gallery section of the Pacemaker website.
Quality insulation whether it's spray foam or regular insulation is an essential element of any structure in northern climates. For more information and guidance with your insulation decisions for any existing or new post frame building, call the experts at Pacemaker Post Frame Buildings at +1-888-834-4448.