People who love and work with horses know how important it is to keep horses in a structure that's animal safe, sturdy and long-lasting. So, if you're looking to construct a horse barn or horse training facility, look no further than a post frame building.
What's a Post Frame Structure?
A post frame building refers to a building technique that uses treated posts or columns embedded below the frost grade as the foundation of the framing system. As opposed to using a poured foundation that is often used in stick built, concrete or steel framing building systems. Since a post frame system does not require a continuous poured concrete or block foundation it can often reduce labor and overall cost to the end users.
Why Use a Post Frame Building as a Horse Barn?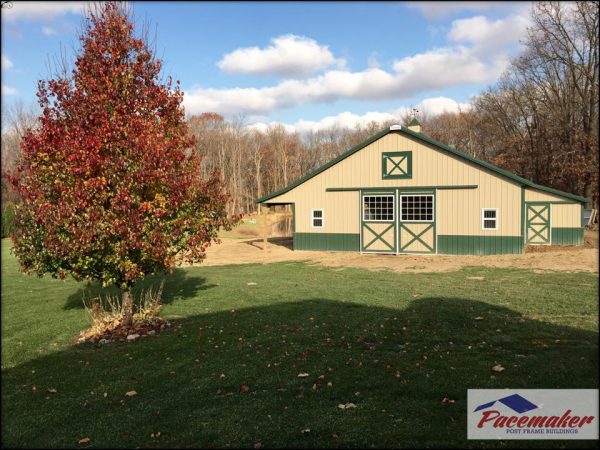 Horses require a safe structurally strong building for shelter from the incremental elements. Post frame is often an ideal system:
Spacious: A post frame building can clear span a large area to provide an open concept design.
Design Flexibility: Whether you want a high ceiling, ventilation, porch or overhangs, it's possible. Since no interior walls are needed to support the structure, it's easier to build appropriate stalls and tack rooms to house horses, store hay, and equestrian equipment.
Adequate Ventilation: The supporting columns usually are placed 6 to 8 feet apart. This allows you to install more windows and doors at a later stage if you think air circulation within the barn is insufficient.
Animal Safety: Is always a top priority in designing an equestrian facility and can be achieved easily with a post frame system
The Bottom Line
While post frame construction is frequently used to build a large variety of buildings, it's wonderful for building horse barns of varying sizes. With the right contractor as your construction partner, you can get a visually appealing structure that's durable, sophisticated and code-compliant.
The flexibility offered by a post frame structure allows you to adapt the horse barn to your needs. You also can add to or make adjustments to the barn later on. However, the biggest advantage of post frame construction is the ability to house your horses in a safe and secure environment while maintaining within your construction budget.
Thinking of building a new horse barn or horse training facility? Pacemaker has the experts that you want on your side when the decision comes to build a new equestrian facility aka (Post Frame Building, Pole Barn, Pole Building, Horse Barn, Riding Arena, Stall Barn, Wood Frame, and Stable).
Check out our gallery for some finished examples and call Pacemaker Buildings today!