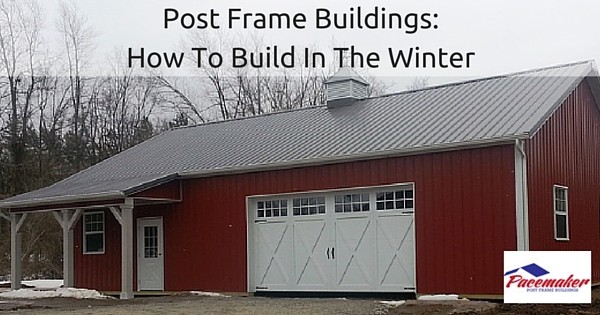 When the winter months roll around, most construction stops. That's because the cold temperatures can be detrimental to the concrete curing process.

In traditional building methods, most foundations need concrete.  However, buildings that use treated wood posts or pre-cast concrete posts as their foundation can still be constructed in the winter. These post-frame construction techniques are minimally affected by the cold temperatures.
Typically columns on a post frame building are set below the frost line.  In most case the augured footings can be generated through the upper frost line allowing the concrete footings to be set below which in turn allows for the column to be set.
This provides the builder the ability to continue to frame and construct the structure. Post-frame buildings are the most energy-efficient and environmentally friendly buildings to construct.
While post-frame buildings were originally used mainly for agricultural purposes, today these buildings are being used for all sorts of purposes including commercial warehouses and office space, retail malls, storage facilities, churches, schools, or even homes.
Post-frame buildings and their facade and treatment stand up against other types of buildings. You may not even know the building you're in now could be a post frame building!
Post-frame designs can have the very same facade and interior finish that is in a traditionally built building. Porches, brick finishes, and more are all possible; really the sky's the limit in terms of design customizations.
Post-frame buildings live up to and exceed the high building standards set for new project developments today. These buildings are easy to maintain, and cost less to build and maintain over time.
Buildings should stay strong and maintainable for as long as possible. No matter what the weather conditions are or the age of the building, these post-frame buildings are structures that builders can count on to stand the test of time.
Do you have some questions for us?  Feel free to contact us today and we'll be happy to talk with you about your ideas!