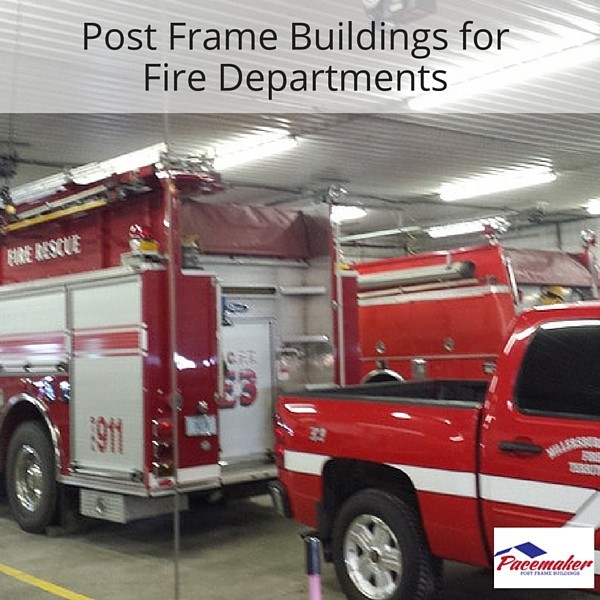 Post-frame construction is an attractive and versatile option for almost any type of commercial or organizational building. Easy to design, fast to build, economical and durable, post-frame can be the best choice for a wide range of building types. No longer simply for agricultural and storage-type construction, post-frame has become a popular choice for residential homes, schools, civic buildings and more. With a wide range of facade and fascia options and architectural styles, these buildings can be designed to fit perfectly into any neighborhood or environment.
In recent years, many cities and communities have selected post-frame building designs for new fire stations and additions. This construction method provides a tailor-made structure that fits well within the community budget. In many instances, post-frame was the only viable option to meet the community needs for a new facility without creating a longer-term financial burden.
Post-Frame Construction for Fire Departments
Municipal, county and state governments have frequently employed post-frame construction for storage facilities, garages, and maintenance buildings. As suburban communities have grown, the demand for new vital facilities, including fire departments, has risen. Meeting the crucial need with the extensive specifications of a firefighting facility and limited funding has been a challenge.
Fire Department buildings have a unique set of specifications that can be met efficiently with post-frame construction. Typically these require substantial ground floor square footage to accommodate fire trucks and other sizable equipment and accessories. Plus the buildings must also have substantial ceiling clearance to spare to accommodate the equipment. In addition, office facilities, dining room and kitchen, and living quarters for crew are required.
Economy, Versatility, and Expandability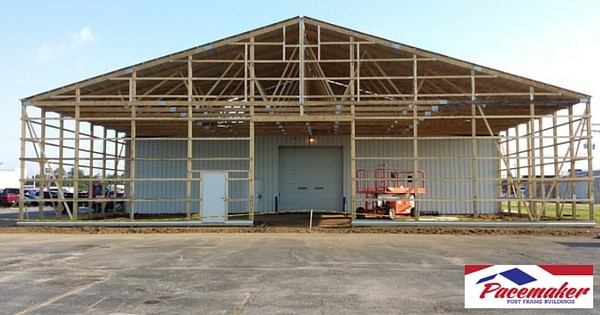 Construction of a community fire station with post-frame construction techniques is the most economical option. Savings during construction can be realized by:
Reduced time from design to completion
Site preparation is minimal
Less material utilized
Less labor required
Fewer licensed tradesmen involved
Expansion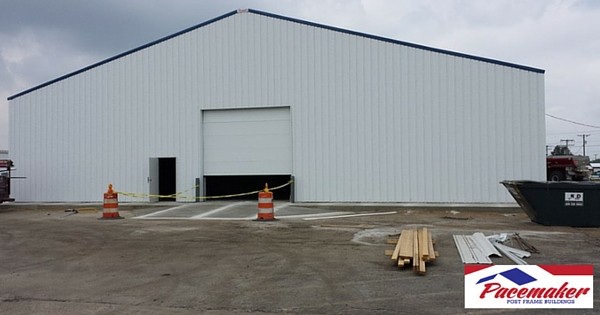 And because of the simplicity of design, adaptations additions are less expensive. Support members are set further apart than with other construction methods which allow for easier removal of sections to expand the space. Modifications can be performed relatively quickly and seamlessly.
In some cases, post-frame has been an ideal option for expanding an existing brick and mortar fire station. Due to higher demand, certain existing urban fire departments are requiring more and bigger equipment that can no longer be accommodated in the existing space. Post-frame is adaptable and can add the required capacity without requiring an excessive amount of engineering and material.
Architectural and Landscaping Features
Post-frame fire stations can be designed to project just about any architectural style. External features such as cupolas and gabled entries are easily added. To add a more traditional look to all or parts of the building, multiple wood siding options, brick wainscot and stucco are among many options. Heavy duty steel siding can be utilized for long-standing durability against severe weather elements.
Landscaping also can be added to enhance the aesthetic appeal of the building.
Cost to Operate
Post-frame buildings can be insulated to provide a high level of energy efficiency. Because of the spacing between the support members, insulation has a higher degree of efficiency compared to other buildings that gain or lose heat through closely spaced beams. The savings resulting from better insulation adds to the overall economy and operating costs of the building.
Sustainability
A fire station produced with post-frame materials and methods is sustainable. Besides the reduction of energy required for construction and operation, the primary materials are a renewable resource. Most of the components are recyclable.