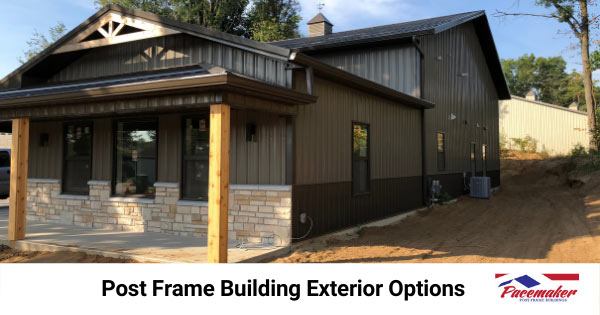 Your new or refurbished post frame building can be whatever you want it to be. Since post frame buildings are versatile and appropriate for almost any application, the design options for your structure are endless. Your building can complement the nearby architecture, create an inviting environment, or make just about any exterior statement you wish. Let's look at post frame building exterior options.
Exterior Cladding and Roofing
Post frame structures can feature a wide range of exterior finishes. The days of simple metal or wood sidings and roofs are behind us. Post frame buildings now rise to the same level of finish and sophistication as any other construction method.
Today, post frame building owners can choose from an array of cladding and roofing materials. The options include steel, wood, brick, stone, vinyl, or a combination of any of these.
Roofing materials may also include various grades of shingles or metal material installed on various roof pitch designs.
Post Frame Building Exterior Options: Siding
Durability, aesthetics, and budget are the primary determinants for post frame exterior designs. For example, in rural settings, the structure may require only a simple metal cladding to protect equipment and supplies.
However, in a more urban environment, the building may need to comply with the local code. Or you may want to complement the surrounding architecture. For example, you may want a retail or civic building to have a more pleasing appearance, so another siding option may be more appropriate.
Here are just some of the options for exterior siding:
Steel Siding

Durable and relatively easy to install, steel siding may be either galvanized or galvalume. The latter is coated with an aluminum and zinc alloy to protect it from rust. A notable advantage of steel is that maintenance is minimal. It simply requires an occasional hose wash to stop staining and keep it clean.

Engineered Wood

While standard wood siding is attractive, it can begin to weather and eventually rot when exposed to the elements. The best alternative is an engineered wood or "smart siding" that has the appearance of solid wood but is far more durable. The product is made from wood strands to provide texture and treated with materials that prevent decay and require minimal maintenance.

Stone Veneer

Available in many styles and colors, cultured stone veneers are attractive, relatively easy to apply, and require little maintenance. Building owners often opt to use material as wainscoting to add sophistication to the structure or blend seamlessly with surrounding buildings.

Brick

Used as either the complete cladding for exterior walls or as a wainscoting feature to add sophistication and beauty, brick suggests permanence and may be preferred in specific urban environments. Authentic brick is available in several shades and is long-lasting, although repointing may be needed after several years in use. Brick can be more difficult to apply and can also extend building times.
Post Frame Building Exterior Options: Roofing
Post frame roofing materials can also be a factor in your post frame building's aesthetics, durability, and energy efficiency. Popular options include:
Shingles

While many consider shingles for a more sophisticated look, properly installed, high-quality shingles are also energy efficient. They are durable and usually guaranteed for up to 30 years.

Metal Roofing

Steel, aluminum, and special copper and zinc roofs shed snow much more easily than other roofs. They also resist mold, rot, and insect infestations. As metal reflects the sun's rays more effectively than shingles, they may be more energy-efficient in summer or in hot climates.
Adding Decorative Exterior Features
To add additional aesthetic interest and curb appeal to your post frame structure, many owners add features such as wainscoting, alcoves, cupolas, stylish entryways, dormers, and dramatic landscaping around the lot. Decorative features are easy to add but may cause your budget to rise.
Contact Pacemaker Post Frame Buildings
Serving clients in Northern Indiana, Southwest Michigan, and Northwest Ohio for over four decades, Pacemaker Post Frame Buildings is a leading supplier of materials and design solutions for post frame buildings.
If you have questions regarding the creation and materials of this efficient construction method, visit the Pacemaker website at www.pacemakerbuildings.com to view their many past projects. You may contact the professionals at Pacemaker regarding your roofing and siding options by calling Pacemaker at 888.843.4448.
You may also visit the Pacemaker website's Contact Us page to complete the brief information form, and one of the Pacemaker experts will contact you promptly.