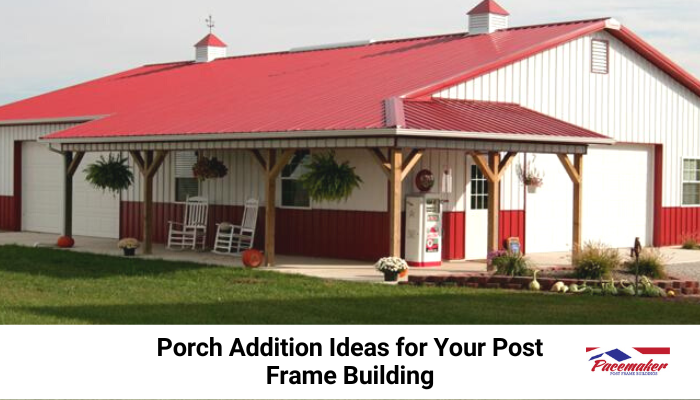 Modern post frame buildings can take on many forms and functions. From agricultural buildings, and functional equestrian, to commercial, civic, and storage buildings. With considerable design flexibility, building owners can add architectural features to their post frame buildings such as a post frame building porch. These details can make them more inviting and valuable.
Consider adding a porch with an overhang adjacent to your new post frame building. This addition may serve as a place to relax and entertain, host events, enjoy the scenery, or reflect on the events of the day. The feature can also make the approach to your post frame building more inviting and appealing. This can be a big benefit for businesses or community areas.
Why Add a Porch to Your Post Frame Building?
While a porch does not add any real structural benefits to your post frame building, it certainly adds value to the curb appeal. It can also add to the functionality of the structure. Whether the porch is in front, back, along a side, or elsewhere, the porch area and other added features break up the "rectangular" nature of the building's form. And while that new porch can add a sheltered recreational and entertainment area, it will likely become a focal point for many future activities.
What Are the Options For Post Frame Porch Additions?
Before starting, it is important to consider zoning issues. This can include setbacks and height restrictions. Consult the local zoning authority before committing to a plan. Post frame building professionals like Pacemaker Post Frame Buildings can advise how to proceed and identify any limitations.
Depending on your post frame building's purpose and, perhaps, the orientation relative to accessibility, views, and other factors, consider the location of the porch area. There are several different ways to position your porch addition and various length options.
Consider these:
Front Porch
A front porch can provide an inviting covered entryway to the building. If the structure is intended for customers or visitors, a well-designed addition can serve as an inviting, nicely decorated entryway.
Back Porch
A back porch offers a more private entryway. This could be to a workshop, separate quarters, an office, a lounge, or other space. At the same time, the front entry may be reserved for the storage of vehicles and equipment. The back porch can serve as a covered, well-decorated rear access. Here you can add plenty of seating and other features to entertain visitors.
Recessed Porch
A recessed porch is an "outside" area created by replacing a ground-level corner of the larger structure. This indented area offers a shaded, covered area with protection from the two resulting sidewalls. The overhead ceiling is created by the second story of the structure.
Wrap-Around Porch
Your post frame porch does not need to be limited to the front or back, or under a corner. Instead, your design can extend the porch from one side to the next or around the building if you prefer. This adds more covered exterior space to relax and entertain as the sun moves across the sky. Plus, a great design can make your building even more attractive. For retail operators, the extra square footage also provides more protected areas to display your goods.
Contact Pacemaker Post Frame Buildings
A post frame supplier, designer, and builder supplying Northern Indiana, Southwest Michigan, and Northwest Ohio, Pacemaker Post Frame Buildings has been a vanguard in the post frame business for over four decades.
Contact the post frame experts at Pacemaker to discuss your post frame building needs and solicit advice about the construction and placement of multi-functional porches to enhance the appearance of your structure.
To learn about the many effective ways that durable, adaptable, and economical post frame buildings can serve you, visit the Pacemaker Post frame website or call the Pacemaker professionals at 1-888-834-4448.