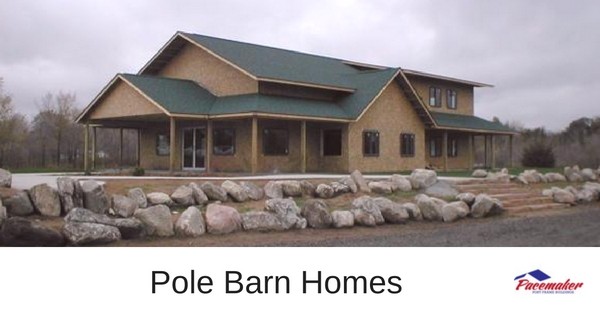 When someone mentions pole barn homes, many people respond with "Huh?" or "Why?" Pole barn or post-frame construction has evolved to encompass many applications besides simple barns and farm buildings. Today, attractive civic buildings, fire stations, schools, medical clinics and even private homes are being constructed using pole barn methods.
And there are many good reasons why pole barn or post-frame is becoming a favored type of private home construction.
10 Advantages of Pole Barn Homes
Site Preparation
Pole barn construction requires only a level surface to begin construction. Without a basement to worry about, pole barn homes are anchored directly into the ground, reducing the amount of excavation required for most designs.
Design Flexibility
Pole barn home designs can be changed and modified right up to the time of actual construction. And, as an added bonus, the wide separation between vertical support members allows for easily adding additional rooms and wings to the home as needed.
Less Specialty Labor Required
Because of the simplicity of the design and elimination of extensive concrete and other elements, fewer high-cost specialty laborers are required to complete construction.
Lower Total Labor Costs
The time of construction from start to the completion of the building is substantially reduced compared to conventional construction methods. As a result, the total cost of labor is reduced.
Fewer Materials
Using post-frame or pole barn type construction, a scientifically designed home will be built with fewer costly materials. Posts and trusses may be 8 or more feet apart, a significant reduction in material compared to standard "stick-frame" methods.
Essentially the stability derived by anchoring the support posts at least 48-inches below ground level in concrete piers or steel sleeves eliminates conventional framing without sacrificing stability. As a result, less material is required above and below ground level.
Construction Time
Once the post frame elements have been anchored and are in place, adding the façade and pre-constructed roof members is simple. Compared to conventional construction methods, pole barn construction time is very short.
Durability in Heavy Weather Conditions
One of the first questions about pole barn construction is often about the durability in high wind conditions. In reality, pole barn construction tends to survive extremely high winds better than traditional construction. By design, the pole barn or post –frame building distributes the wind force away from the windward side of the building equally to the rest of the structure.
Properly anchored, the pole barn building will resist the "lifting" forces that are cause traditional buildings to rise and deconstruct. Pole barn buildings have survived hurricanes when neighboring conventional buildings collapsed.
Decorative Features and Landscaping
Just about anything you may wish to do to enhance the exterior appearance of your pole barn home is possible. Features such as porticos, brick, wood and stucco facades plus complementary landscaping can make your home one of the most attractive in the neighborhood.
Energy Efficiency
Due to the wide spacing (8 to 12ft.) of the frame posts and trusses in a pole barn building, insulation becomes uniform. Standard frame construction requires applying insulation between each energy-losing framing member spaced in16-inch intervals. Better insulation means lower energy costs for the long run.
Overall Costs
When all of these factors come together into a beautiful, pole barn constructed home, the savings from reduced material and labor, plus the ongoing benefits of a more energy efficient house will have saved you a great deal of time, effort, and money.
Pole barn construction isn't just for barns anymore!  If you are looking for a creative home, contact us to talk further.
Save