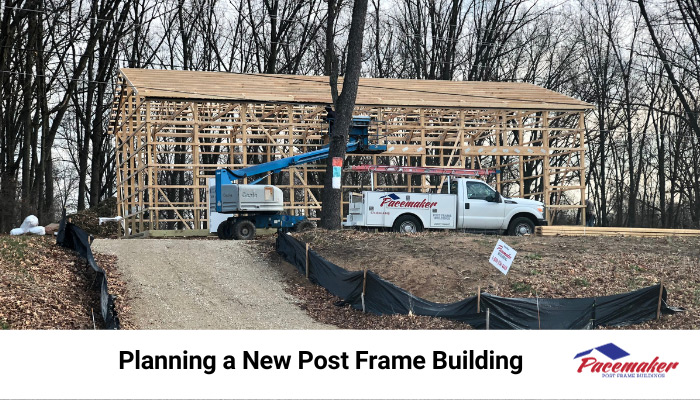 A new post frame building may be the best solution for your work, hobby, or storage problems. Expansion on traditional buildings is challenging, so building a new structure often makes more economic sense. For retail, commercial, agricultural, equestrian, and other uses, a post frame building will be the best choice to accommodate all your needs.
The first step is to plan what you want to build to ensure it fits your needs.
Planning Your Post Frame Building
First, getting outside input for your post frame structure is always a good idea. Your initial plan may lack elements in some instances that may be important in the future. Working with a post frame professional helps you avoid mistakes. Additionally, they may recommend you include certain elements you did not previously consider. 
In any event, below is the typical planning process you should use for your new post frame building.
Beginning the Planning Process
Start by looking at the project in "Big Picture" mode. Think about the primary and secondary uses of the building. Then, consider the interior and exterior elements you deem necessary. 
Ask yourself these questions during this phase:
Will you need to consider a ceiling load for the structure?
How will the location of the building impact other buildings around the property?
How will traffic flow within the structure?
Where and what type of doors will be needed?
Zoning and Permit Considerations
Be proactive and begin this process early. Contact the appropriate local government authority for zoning permits. Ensure you understand the current zoning laws, height restrictions, square footage allowed and any variances necessary.
It is important to understand all the requirements for your building permit. That may mean having a site plan, zoning and building applications, a legal description of the property, and construction plans. Owners may need a driveway permit, septic release, drainage plan and approval, and highway and health department approval.
Also, make sure your plan complies with all state regulations.
Land Site Considerations
Is there organic material that needs to be removed by a contractor before starting? Check the cost of removal before starting your foundation planning. Additionally, check with your post frame contractor, as they may handle removal for you.
Plan for building pad costs: this is to pay for the material at the base that will extend about four feet beyond the structure's footprint to ensure proper drainage.
When planning the driveway, decide if you are adding to the current access, or creating a new one. Additionally, ensure you have space for the building materials and access for the building construction equipment. Lastly, plan all utilities for the new building such as sewer, water, gas and electric.
Materials and Energy Efficiency
Develop a list of all the components for your post frame building. Who are the suppliers? Will they deliver directly to the job site?
Making the construction and operation of the building energy efficient will save money over the long term. Consider using Energy Star-rated components and be sure to add insulation to the wall cavities. Decide whether you will use compressed or blown-in insulation.
What framing will be used: wood or steel? Remember that wood is more energy efficient as it insulates better than metal or masonry walls.
Selecting a Contractor
How long has the contractor been in business, and do they do the job themselves? Do they carry liability and other insurance in case of theft, damage, loss of components, and more?
Your contractor should specialize in post frame construction. Ask to visit some of their past projects, or view their portfolio. Your lender may also have some insights into the performance of the company.
You will need to know who is building your post frame building and whether they will be employees or contracted workers.
Remember that the quality of work varies and that the best builders will produce a high-quality, long-lasting structure.
The Building Process
Setting a timeline is essential since delays can be costly. Therefore, you want to ensure the company is reliable and ready for your project. Ask these questions before hiring:
What kind of training and safety features does the company employ?
How often is the company communicating the progress of the project with you?
Does the crew work in the winter?
Are there elements of the building that must be subcontracted?
Finally, check if the company has workers' compensation insurance.
Final Tips
Make sure you thoroughly check the contract. If something is not mentioned explicitly in the agreement, it may not be included.
Some last-minute considerations may include what other features you want to add to the post frame building. Wood frame buildings are easiest to add certain features like overhangs, porches, enclosures, and other additions. However, these additions are more difficult with metal or masonry structures. 
Work with Pacemaker Post Frame Buildings
Family-owned Pacemaker Post Frame Buildings has planned, supplied, and constructed post frame solutions for hundreds of customers in Northeast Indiana, Southwest Michigan, and Northwest Ohio for over forty years. Located in North Webster, Indiana, the professionals at Pacemaker are dedicated to producing top-quality, long-lasting, and economical post frame buildings for their clients.
To learn more, visit the Pacemaker Post Frame Buildings website to see many of their past completed projects. 
You can request a no-obligation consultation by completing the Contact Us Form.
If you have questions, you can also call our experts directly by dialing 1-888-834-4448.