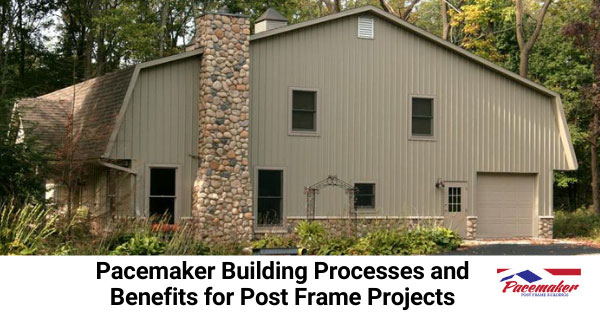 Post frame construction is one of the most versatile, practical, and economical construction methods today. With the evolution of new techniques and materials, post frame solutions have evolved to include retail stores, civic office buildings, equestrian centers, schools, and even churches. Pacemaker building processes make the process efficient and cost-effective.
While the processes for building a modern post frame building are relatively straightforward, the benefits are many.
Professional Post Frame Expertise
The experienced professionals at Pacemaker Post Frame Buildings have refined the design, supply, and construction of top-quality structures for many applications.
Pacemaker's process involves:
Consultation: Work with the client to understand the needs and goals.
Discuss the Best Solutions: Outline options and benefits of each'
Creating a Proposal: Detail costs and explain zoning and permit needs.
Ongoing Communication: Provide regular updates throughout the project.
What are the Steps for Constructing a New Pacemaker Post Frame Building?
Steps involved in building any Pacemaker post frame structure include:
Site selection
Selecting the ideal location for your future post frame building involves ensuring the site will be sufficient for current and future needs. Furthermore, the location needs to be accessible and graded adequately during site preparation.
Planning  and design consultation
Developing the plan and design involves locating and orienting the building footprint. Then calculate the necessary space, and design the building with the required features. The project also includes a proposed timeline for start and completion. This design phase should consist of experienced input from the post frame supplier.
Code compliance
Consult with the local authorities to identify any potential code issues that may arise.
Permit application
Submit the design to the permitting body for approval to receive the permits needed to begin construction.
Construction and completion of pre-engineered post frame structures.
Meanwhile, Pacemaker will begin creating the pre-engineered post frame components. These will be delivered to the work site for building and assembly.
Pacemaker Post Frame Buildings of North Webster, Indiana, employs highly skilled crews in their low-maintenance, state-of-the-art, purpose-designed facility to produce the best quality components in a timely and energy-efficient manner.
Advantages of Selecting Pacemaker Post Frame Buildings
Pacemaker Post Frame Buildings of North Webster, Indiana, offers several advantages in addition to their decades of experience in producing, innovating, and supplying components for high-quality post frame buildings.
Pacemaker offers some specific advantages, including:
In-house manufacturing of components designed specifically for any project to ensure high-quality elements plus on-time deliveries.
Custom designs to meet the client's precise needs.
Design and manufacture of components that exceed local codes and requirements.
Energy Efficiency with R-19 insulation for wall cavities and R-38 or R-46 blown insulation for attic spaces. Energy-efficient roofing is also included to minimize energy costs.
Design flexibility allows Pacemaker to accommodate preferred architectural enhancements. And customize them to meet client and neighborhood requirements and aesthetic choices.
Low maintenance is a standard advantage of Pacemaker Post frame Buildings. Exterior Galvalume coated steel panels coated with the Valspar Kynar 500 paint system have industry-leading gloss retention and fade resistance protection that keeps your building looking good for decades. An occasional wash is the only requirement.
Shorter Time to Completion saves time and money and helps building owners fulfill their needs quicker. The time to completion is often less than the time needed to construct a stick-built, steel frame, or masonry building.
Lower cost completion results from the shorter completion time. Accordingly, more efficient use of materials and skilled labor, more straightforward site preparation, and operating expenses.
Contact Pacemaker Post Frame Buildings to Learn More
For over four decades, Pacemaker Post Frame Buildings has been designing, producing components, and constructing post frame buildings in Northern Indiana for clients in Northern Indiana, Northwestern Ohio, and Southwestern Michigan. You may view many of their recent creative designs and finished projects on the Website Gallery.
For more information, contact Pacemaker Post Frame Buildings at 888.834.4448. You can also complete the simple Information Form on the Contact Us Page, and one of our professionals will reach out to you.