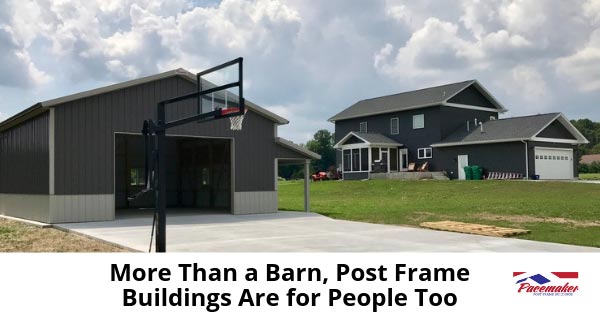 It is time to stop thinking of a post frame building as just a pole barn or shed for animals and farming equipment. Post frame buildings are for people too. While modern post frame buildings can serve those purposes effectively, they are so much more. Many civic buildings, fire stations, schools, churches are now constructed using post frame methods. As well as, small aircraft hangars, warehouses, and even private residences.
An undeniable advantage of post frame buildings is the open, uninterrupted space.  Providing ample space for equipment, animals, and groups of people to move about comfortably.
Host Important Events
You can create an ideal setting for large gatherings and important events with a modern post frame building. Properly arranged, guests will have ample space to move about plus a clear view of what's happening. Moreover, post frame structures are perfect for weddings, awards ceremonies, large celebrations, and holiday parties.
A post frame structure is ideal for hosting a wedding, and even the reception afterward, because the space allows for unobstructed views of the ceremony while providing ample space for seating.
Following the wedding ceremony, guests can migrate to the hospitality area of the layout to begin the real celebration. Install a sound system and arrange tables and chairs as you please. There should be plenty of room for a dance floor as well.
Guests can mingle naturally within the free and open space and may even choose to stroll outside if the weather permits.
Store and Display Collections
Post frame structures are perfect for storing or displaying automobile collections, antique farm equipment, and even light aircraft.
Maintaining old cars or other collectible equipment in prime condition means correct temperature and humidity levels to avoid deterioration. Climate-controlled and insulated, post frame buildings will protect your assets from the exterior elements while always maintaining the ideal conditions.
You can even decorate the interior and exterior of the post frame building with decor, artwork, and paraphernalia that depicts the era of the collection.
Park Your RV
When off the road, your Recreational Vehicle will last longer and stay in pristine condition when protected from extreme elements. Store your RV in a custom-sized post frame building.  With a tall and wide entryway, it can accommodate larger vehicles. This is a perfect solution to keep it clean and warm. Especially during the months when you are not traveling. Therefore, your RV is always ready to go when you are.
Make it Your Home
Many people are choosing post frame methods to create their dream home. The advantages include but are not limited to:
Best Views

Many homesites are located where the exterior scenery is exceptional. Post frame structures can provide broader, less obstructed views than traditional buildings.

Beauty

Post frame residences can employ all the same exterior claddings and landscaping that conventionally built homes have.

Maximum flexibility

Room configurations can be changed with little effort compared to "stick frame" homes. For growing families and empty-nesters, adding or removing a bedroom is a less cumbersome job.

Durability

The post frame structure is solidly anchored with durable vertical posts sunk at least four feet into the ground. The structure diverts high wind forces downward and is less vulnerable than conventional ground-level anchored buildings.

Sustainability

Post frame homes are more energy-efficient and often use renewable and recyclable materials in their construction.
So as you can see, post frame buildings are for people and are a perfect building choice for a variety of uses.
Contact Pacemaker Post Frame Buildings
Pacemaker Post Frame Buildings is a leading manufacturer, designer, and builder of post frame materials and buildings. For four decades, this Northern Indiana family-owned and operated construction company has created post frame buildings for municipal, agricultural, retail, educational, religious, and equestrian uses. While their structures are ideal for any traditional farming purpose, they can be designed or adapted for almost any use.
Visit the Pacemaker website to view many of their completed projects and to see how versatile and beautiful their post frame buildings are.
For more information, phone the professionals at Pacemaker Post Frame Buildings at 1-888-834-4448.