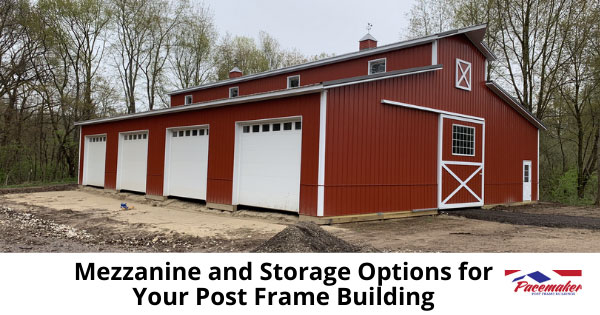 As you enter a newly completed post frame building, whether it is a barn, workshop, storage facility, or other unique building, you will recognize the massive volume of unobstructed space. Consider storage options for your post frame building. Unlike other types of building, post frame structures utilize no load-bearing interior columns within that can obstruct movement. This aspect happens to be one of the differentiating elements of a post-frame building, one that allows large vehicles and equipment to maneuver easily.
You will also note there is ample space above as well. Space that often goes unused. However, some building owners will choose to use the area above as a second floor or a mezzanine for additional storage, office, workspace, or even as a mancave.
Storage Options for Your Post Frame Building
The second level of your post frame building will likely complement the general purpose of your building. As we know, space can fill up fast. And storage always seems to be at a premium. A barn or equestrian center will require extra storage space for seasonal tools and accessories, feed, tack, and other supplies. In contrast, workshops and mechanical repair structures demand extra space for tools, parts, tires, oil, and more.
Additionally, an office or comfortable climate-controlled room can be a practical asset in any post frame building.
Adding a Mezzanine
Building an upper-level mezzanine space can be an excellent choice. With this, you achieve the objective of adding floor space without having to use up the entire upper volume of the building. Taller equipment can still be stored on the side opposite the mezzanine.  The space below the new mezzanine floor can still be used for storing smaller, lower profile items.
Your mezzanine area can be customized to suit your needs and can be left open or kept enclosed to provide a climate-controlled room. Adding some windows to the outside or the inside, if you prefer it, can help add light and air. You can also add windows looking out from an enclosed room to be able to view your building's interior from a higher vantage point.
Always Consult a Design Engineer First
When you are in the process of designing a new post frame building, it is recommended that you plan for an upper level. Even if you do not intend to finish it at the outset. As we frequently find, the need for additional space inevitably pops up. The support systems can be built to accommodate the extra weight while specially designed trusses can optimize the upstairs headroom.
If you are thinking of adding a second level to an existing post frame building, consult a qualified design engineer first. Therefore ensuring that the structure will support the additional burden. The weight of another level and its contents could create too much stress to the vertical support system and footers. Thus can make the overall structure unstable.
Also, to comply with local building codes, you may need to plan an additional point of egress. Always check your local building codes before proceeding.
Contact Pacemaker Post Frame Buildings
Adding a second floor, mezzanine or storage option to your post frame building or barn can be a great addition. Done right, you will soon wonder how you ever managed without it.
Serving Northern Indiana and Southwest Michigan for over four decades, the experts at Pacemaker Post Frame Buildings will help you with your second-floor addition or any other post frame construction.  Pacemaker is a premium supplier, designer, and builder of versatile and long-lasting post frame structures. Ideally used for agricultural, commercial, civic, institutional, and equestrian buildings.
To learn more about adding an upper level to your post frame building, contact the experts at Pacemaker at 888.835.4448.