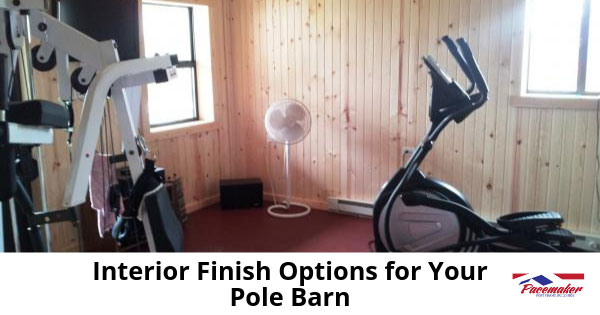 How you plan to use your pole barn or post frame building will determine the best way to finish your interior. Many post frame builds serve as equestrian centers, equipment storage facilities, schools, churches, firehouses, or even private residences, each demanding a certain type of interior finish. Let's look at interior finish options for your pole barn or post frame building.
Your interior choices may also depend upon the amount of potential abuse the walls will receive. Offices, for example, will likely have walls clad in a different material than those that house heavy equipment or vehicles.
Build and Insulate
Modern post frame or pole barn buildings are built around large vertical wooden columns that anchor deeply into the ground. These "posts" are typically 6-10 feet apart and support the trusses and the entire roof structure. Since post frame buildings have no interior load-bearing walls, walls can be placed wherever you choose.
Note that before installing an interior wall finish, insulation should be positioned uniformly between the vertical supports. Once completed, the wall and roof surfaces can be installed to create the look you desire.
Here are some interior  finish options for your pole barn building:
Oriented-Strand Board (OSB)
OSB is an engineered-wood product like particleboard. The material is made by compressing layers of aligned wooden strands or flakes with adhesive materials. Some of OSB's strength comes from the original material, which is usually smaller fast-growing trees from tree farms, rather than from forests. OSB is a product of up to 50 layers of strand material.
OSB can be produced in sheets up to 16-feet, thereby covering most walls without any requiring any horizontal seams between the floor and ceiling.
A downside to OSB is that the material will not accept paint or stain as well as materials like plywood or drywall. If aesthetics is a primary issue, OSB may not be the best choice for your interior.
Plywood
Plywood was a longtime favorite for flooring and roofing among builders until the less expensive OSB became available. The principal advantages of plywood over OSB happen to be the stiffness and its ability to withstand excessive moisture without signs of damage.
In most instance, plywood is still preferable material as the sublayer for roofing, even though it is more expensive than OSB.
Plywood sheets are generally 8-10 feet in length. Therefore eliminating horizontal seams in post frame buildings that have lofty open space above.
Plywood is lighter weight than OSB, and it will accept paint and stain much better than OSB.
Drywall
Drywall is the premier choice for walls and ceilings in residences and office-type buildings. Installing insulation first is essential for drywall since this material damages easily when there is excessive exposure to moisture from the outside.
An advantage of using drywall is that you can be plaster or paint it. As well, You may decorate drywall as you wish with hanging lamps, pictures, and other adornments.
Another benefit of modern drywall is its fire-resistant properties, an essential attribute for any structure.
Steel Liner
Steel is especially prevalent in pole or post frame buildings that house vehicles, heavy equipment, and have more potential for inadvertent damaging impact. The material is ideal for firehouses, warehouses, storage facilities, manufacturing, and food processing facilities.
Steel is easier to clean and maintain than other wall materials. Steel paneling will also reflect light better and is fire resistant.
Although steel is a more expensive option, you can expect it to wear and resist damage better. If a panel does become damaged, you can easily replace it with a new one.
Additionally, the ability to regularly hose down and wash floors and walls without damaging the steel panels is a great benefit. In many applications, this characteristic may be a critical determinant.
Combinations
Another concept for interior finish options for your pole barn is to use a combination of materials. In some instances, using steel as wainscoting to cover the lower parts of certain walls can save money. Areas above that are not vulnerable to damage from water and equipment can be finished with less expensive materials.
Alternatively, using drywall or OSB in office and bathroom areas to complement steel paneling in operational areas is a smart choice.
Contact Pacemaker Post Frame Buildings
Pole barns and post frame buildings are practical and economical solutions for many applications. Pacemaker Post Frame Buildings is a leading manufacturer, designer, and builder of post frame materials and buildings. For four decades, this Northern Indiana family-owned and operated construction company has created post frame buildings for municipal, agricultural, retail, educational, religious, and equestrian uses.
Visit the Pacemaker website to view the many beautiful examples of past projects.
If you have any questions, contact the experts at Pacemaker by phoning 888-834-4448.