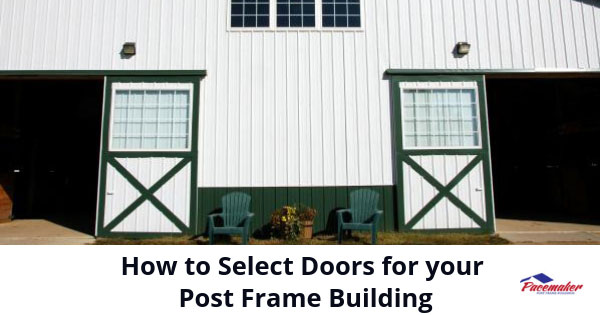 Beautiful and functional post frame buildings have many uses. Today, post frame construction is commonly used for agricultural buildings, auto repair shops, equestrian centers, fire stations, retail outlets, churches, schools, warehouses, and more.
Post frame buildings are ideal for many applications. As a result, selecting the right doors varies from project to project.
Designing Doorways
The primary consideration for entry and exits to any building is the size of the objects that must pass through. For barns, repair shops, or warehouse, access must allow easy entry by large vehicles. Tractors, automobiles, trucks, and loaded forklifts may also be able to enter and egress easily.
Fire stations must allow quick and the efficient exit of massive fire engines. Equestrian centers must have entries large enough to allow horses and riders to enter and leave safely without obstruction.
Creating a doorway that is wider and taller than the largest object to ever pass through is always the necessary solution.
Overhead and Sliding Doors
Another factor to consider, in most instances, is the preservation of energy. While what passes through will influence the dimensions of the doorway, energy savings issues may determine the type of door to be installed.
For example, overhead doors have inherent advantages in that their operations are not affected by snow and cold weather. The doors rise instead of needing to push against accumulated snow. The tracks are inside and will not tend to freeze.
However, sliding doors can be set to open longitudinally only as far as is needed, thereby reducing energy consumption.
Since "big" doors may only need to operate when needed, smaller service and "man" doors can be scattered throughout the building where required. These help to preserve energy loss from the working areas.
Heavy-duty PVC strip curtains may also be used for any exterior access points to allow entry without letting energy escape,
Double Doors and Bi-Fold Doors
Double doors of various sizes can enable easy access of smaller units through one side while the opposite side remains closed. This will preserve energy in the post frame building. When larger objects pass through, both sides may be opened.
Similarly, bi-fold doors may be opened only as far as needed for easy entry or egress.
Dutch Doors for Barns and Equestrian
Because of the clear, uninterrupted space within, post frame buildings are perfect for agricultural and equestrian buildings. Dutch doors are very popular for housing animals because the upper section may be open to permit air and light. The lower part stays closed to keep animals from escaping.
Dutch-style doorways have long been preferred for horse barn applications.
Spacing Advantage of Post Frame Buildings
One notable advantage regarding doorway placement or any subsequent changes is the eight-foot spacing of post frame's vertical beams or posts. Additional doorways can be added without requiring substantial modifications to the building's framing structure.
Pacemaker, the Experts in Post Frame Construction
Pacemaker Post Frame Buildings of North Webster, Indiana, has been a standard setter in post frame construction for over four decades. The experts at Pacemaker have been involved in the design, manufacture, and construction of thousands of post frame buildings of every type from industrial and agricultural to municipal, civic, retail, residential, and more.
Visit Pacemaker's website gallery to view the many applications of beautiful, economical, and functional buildings. Also, you can learn about their process, financing options, and what to look for in a competent post frame building supplier and builder.
The Pacemaker experts can guide your project from concept to completion, collaborating to ensure all expectations are met.
For questions about any phase of post frame construction, contact the professionals at Pacemaker Post Frame Buildings. To do so, either complete the website's Contact section or by calling (888)-834-4448.