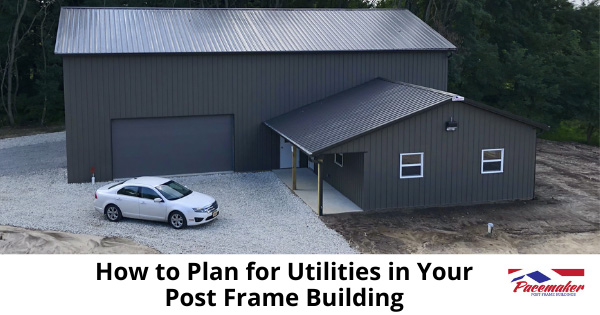 During the planning phase of your new post frame building, you will need to incorporate all the necessary considerations for utilities to meet your new structure's needs. Whether for commercial or agricultural use, these may include plumbing and water, electricity, and HVAC as required. However, your experienced post frame supplier is an essential resource for making sure you do not leave out important elements. Here are tips to plan for utilities in your post frame building.
Remember that your needs may change over time. Later you may be grateful that a surplus of electrical outlets were incorporated. Additionally, having plumbing fixtures situated at the outset can save you money later on.
Plan for Utilities in Your Post Frame Building: General Considerations
Local Codes and Requirements: During the planning phase, you must review your needs with the regional Planning and Zoning entity. This will give you a better understanding of utilities easily available at the location.
Location: Remember, your costs will increase the further the structure is from the closest available public utility. If possible, by preplanning you can forego the cost of additional trenching or poles to access.
Lighting: What is your lighting plan? Will you be creating partitions that need individual lights? Or, are you using overhead lighting to illuminate the more expansive, open space?
How many extra outlets will you need? Do the outlets need different amperages for the various tools?
Do you need to plan for an office, storage, tack room, or other temperature-controlled areas? If you choose to accommodate an office or temperature-controlled room, sufficient ducting will be required. Then ensure you plan for heating and air conditioning ductwork, insulation, and electrical outlets for comfort and convenience.
Will your HVAC be at ground level or mounted above to provide additional floor space? The joists must be capable of handling any extra weight from the system.
Can you tap into an existing sewer system, or will you need to dig a septic tank? Review to ensure the septic tank capacity will be sufficient for your needs as you grow.
Will you have a toilet? Remember the plumbing for the toilet or sink should come up with an interior wall rather than an exterior wall in freezing climates. If your pipes must come directly from the exterior, wrap them in at least 4 inches of insulation with an ample heat source to warm them.
Plan for the placement of the electricity meter. For aesthetic reasons, you may choose to keep it out of sight with your electrical panel nearby.
Work with Pacemaker Post Frame Buildings
The Pacemaker Post Frame Building designers have helped thousands of property and business owners plan for their future needs. Utilities are an integral part of any structure. Therefore, an experienced designer will help you avoid the pitfalls of an inadequate design.
With nearly 45 years of experience in design, manufacturing, and construction of precision post frame structures, the Pacemaker Design Team will ensure your building will meet all of your anticipated needs at the lowest cost.
To learn more about Pacemaker Post Frame Buildings of Northern Indiana and view some of the recently finished projects, visit their website Pacemaker Gallery.
If you have questions regarding Pacemaker Post Frame Building's array of services, phone the Pacemaker professionals at 1-888-834-4448.