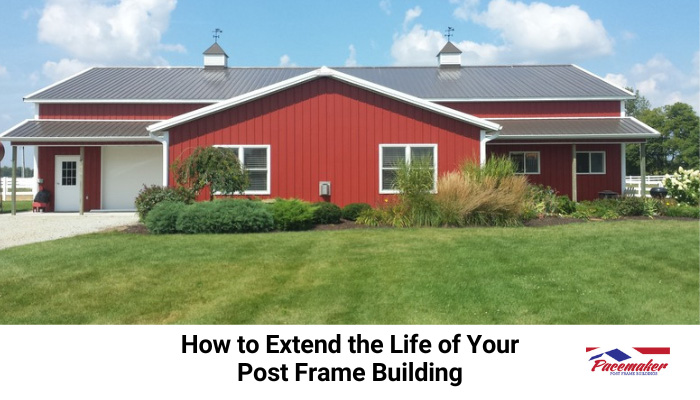 Besides being a practical, versatile, and economical option for many purposes, post frame buildings can last a lifetime. Additionally, many survive better than conventionally built structures in severe weather conditions. While post frame buildings are built to be tough and long-lasting, specific maintenance measures will help keep your post frame building in the best condition and looking brand new. Learn how to care for and extend the life of your post frame building.
All building types demand specific maintenance practices to maintain their usefulness. The necessary care to keep your post frame building working and looking like new is relatively straightforward. Remember that fixing and repairing small problems as they appear is preventative and cheaper to correct than major problems that may occur later.
Maintenance Suggestions for any Post Frame Building
Conduct Regular Inspections
Walk around the building regularly to determine if the weather is beginning to affect the structural integrity of the building. Look for loose siding, peeling paint, wood elements showing signs of deterioration, and loose hinges. Then, make a plan to address and fix the issues immediately.
One of the most detrimental yet correctible challenges can be signs of decay in the vertical support beams. Since these are embedded into the ground to provide primary support for the entire structure, addressing deterioration or decay becomes an important priority.
Depending on the degree of decay, building owners have several options for reinforcing or replacing these beams. Always aim to treat the problem immediately and repair and strengthen these before the issue worsens.
Make Sure the Interior is Protected from the Elements
Regularly check the doors and windows to ensure they seal correctly. After all, this is what keeps the wind and moisture outside. If the building is heated, ensure all cracks and openings are closed. This helps to preserve energy and protect the contents.
Power Washing
Occasional power washing will return the building to a like-new appearance by eliminating accumulated dirt and other substances. Be careful not to harm the surfaces by cleaning at pressure levels that are too high. Power washing should be
performed at least once per year using a light detergent solvent that is safe for the exterior cladding.
Get Rid of the Bugs
Termites, flying ants, and other wood-gnawing pests can cause permanent damage to the wooden components of your post frame structure. Stay ahead of any infestation by having the building inspected and treated by a professional. Make sure to pay particular attention to the areas just above and at ground level.
Ensure Proper Drainage
When you originally designed and built your post frame structure, you likely ensured the footprint and surrounding areas were adequately sloped.
Over time, as you landscape, fertilize, and water near the base of the structure, the ability for water to drain appropriately from within may have become compromised. Make sure to maintain a space around the perimeter of the building to allow water to flow outward. After all, you do not want water accumulation within or around the building.
Watch for Accumulating Moisture Within
Another enemy of the longevity of your post frame building is condensation. Prevent and minimize this naturally occurring condition by having:
Proper ventilation
Vapor barriers in the walls
Regular drainage inspections and repairs
Temperature regulation to reduce moisture buildup
A dehumidifier
Work with Your Post Frame Professionals
In Northern Indiana, Northwest Ohio, and Southwest Michigan, the premier post frame designer, supplier, and builder is Pacemaker Post Frame Buildings of North Webster, Indiana. This family-owned company has led the way in post frame technology for over four decades and has created long-lasting solutions for thousands of building owners.
Visit the Pacemaker Post Frame website to view their Gallery of completed projects and to schedule your no-obligation consultation to discuss your post frame building needs. You may call 888-834-4448 to talk with one of the Pacemaker Post Frame Building professionals about your upcoming project.