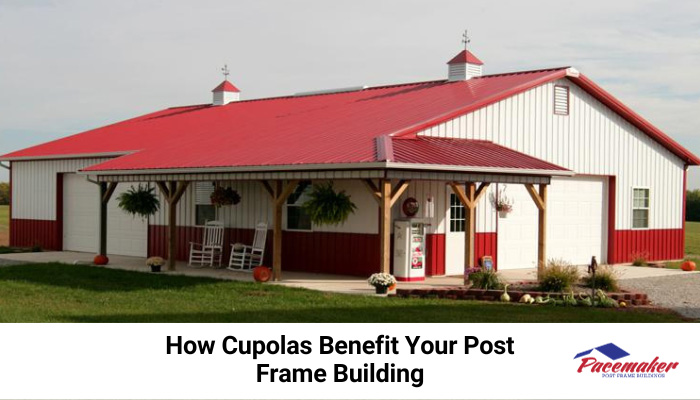 Driving through the countryside, you might pass an attractive farm building or even a home with a striking cupola atop. While this addition to a post frame building is certainly ornamental, the feature also adds other benefits.
What is a Cupola?
A cupola is a small structure that sits on top of a building's roof, often with windows and louvers. These are often built to look like a miniature of the building itself, although they do not need to be.
From an aesthetic perspective, cupolas are a popular exterior feature that adds a sense of stateliness to the overall building. However, there are also practical benefits to adding cupolas to post frame structures.
Practical Benefit of Cupolas
While many add cupolas to their post frame structures for the aesthetic, a hugely practical benefit also exists.
Louvered cupolas allow air to flow in and out, adding ventilation to the overall building. By keeping the air moving and releasing the warmer air, owners reduce the likelihood of mildew or mold forming.
Furthermore, as cupolas keep the air circulating, the environment is more comfortable for the inhabitants.
Other methods of roof ventilation; particularly ridge vents, can be added to your post frame building to accomplish what a cupola does. Although the beauty and aesthetic of a cupola add more to the appearance of the post frame buildings. In fact, they are often used to highlight an architectural theme among a grouping of structures like sheds, detached garages, and other outbuildings.
Considerations for Installing Cupolas
Besides the style and type, the main thing to consider is the size of the cupola. You want the addition to be proportionate to the size of the rest of the building and not overwhelm the main body.
One rule for making the cupola fit the rest of the building is to start by measuring the length of the building. The cupola should be an eighth to a tenth of the length of the building.
A second proportionally-sized cupola may be necessary if the structure is substantially longer.
If more than one building is involved, add matching cupolas in different sizes depending on the size of the structures.
Choosing A Cupola for Your Post Frame Building
A beautiful cupola for your post frame building, new or old, can be an essential addition. While upgrading the ventilation in your building, these features also add considerable beauty and style.
Meet with your post frame building expert to discuss adding a cupola to your building. Use it to add beauty and style to your environment. In some areas, a cupola may be necessary to allow your post frame building to "fit" better, perhaps appeasing the eye of local code inspectors.
Contact Pacemaker Post Frame Buildings
For over forty years, the professionals at Pacemaker Post Frame Buildings have set the standard in their industry. Serving clients in Northern Indiana, Southwest Michigan, and Northwest Ohio, this family-owned enterprise has perfected its art and offered the most creative suggestions for buildings of all types: agricultural, equestrian, commercial, suburban, civic, and more.
Visit the Pacemaker Post Frame Buildings website to see many of their finished projects. You will notice that cupolas play a significant role in many of these projects.
Arrange a future consultation to discuss your needs by visiting the Pacemaker website and completing the simple Contact Us Form.
You may also call Pacemaker at 888-834-4448 to ask questions or to arrange your future meeting.