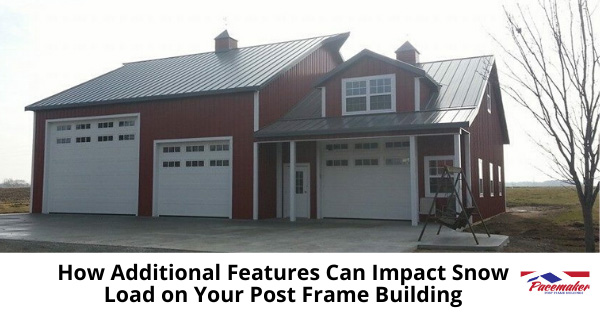 Across the country, architects and designers pay close attention to the effect snowfall can have on a structure's integrity, specifically the impact of snow load on your post frame building. The snow load or maximum downward force exerted by accumulated snow and ice must be pre-determined when designing any structure. In areas at a higher elevation as well as the North Central, and Upper Great Lakes regions, special care should be taken to design your post frame roof systems to deflect, not attract, snow pile up.
As with conventional construction methods, certain aesthetic features can impede the natural elimination of snow and ice. This is due to angles and traps that allow snow and ice to build up. Excessive snow accumulation that lingers for months will add substantial stress to the roof support structure. Over time, the problem can result in unnecessary permanent damage.
The effects of accumulated snow can become substantial. Each foot of snow that accumulates begins to thaw, and then refreezes can weigh up to 21 pounds per square foot. If that same foot of snow were to convert to solid ice over time, the new ice could weigh up to 57 pounds per square foot. You don't want that on your roof.
Understanding the Potential Impact of Snow Load on Your Post Frame Building
Excessive and lingering snow and ice can affect your post frame roof structure significantly. Some of the typical symptoms are:
Truss members, headers and rafters bowing or bending from overhead stress
The roof showing signs of sagging
Interior drywall beginning to crack
Doorways, particularly sliding ones, become difficult to open and close
How Some Features Add to Snow Accumulation and Snow Load on Your Post Frame Building
Often roof additions are intended to enhance the aesthetics of the building. Although most people prefer interesting shapes and angles that break the monotony of a standard roof, these can become a problem in the winter.
Aesthetics
Attractive and stylish post frame buildings enhance the curb appeal of our property. However, here are two examples of aesthetic features that can become problematic following significant snowfalls:
Dormers: Windowed dormers add an interesting profile to the exterior and allow additional lighting to the interior. However, they can block wind and gravity's ability to enable the snow to fall from a pitched roof. Over time, after trapping considerable snow and ice, both the roof and the dormers can become damaged.
Radical Changes in Roof Pitch: Sometimes, designers feature changes in roof pitch at various places along the roofline. These are sometimes an attempt to make the structure more visually appealing. In other instances, the rationale to alter roof pitch might be to accommodate an interior use of the building – where a higher or differently angled roof is needed.
When building with a variable roof pitch, you need to know that you could be creating crevices that become excellent snow collectors. On buildings situated in snow-prone areas, the snow may remain through the season and keep getting heavier and denser with each snowfall.
Energy-Related Accessories
While optimizing the energy usage in your post frame building is an admirable goal, be sure that your quest for efficiency does not cost you more in repairs.
For example:
Solar Panels: Roof-mounted solar panels can foster additional snow accumulation on your roof. More importantly, your design must also account for the added weight of the panels themselves. Before adding solar panels to an existing structure, consult a design engineer. They will calculate the potential load of the panels and any snow accumulation.
Appliances: If your HVAC unit is best situated on the roof of your post frame building, your design should ensure that the roof can handle the added load of the equipment as well as the maximum projected snowfall. As with the solar panels, if you are thinking of adding heating and cooling to the roof of an existing building, make sure an expert has made the necessary calculations before installing.
Understanding these common design and style choices along with their effects during snowfall will help your new post frame roof last you for years to come.
Contact Pacemaker Post Frame Buildings
If you are considering building a new post frame building in the Upper Midwest or Great Lakes regions, contact Pacemaker Post Frame Buildings in North Webster, Indiana. The professionals at Pacemaker have decades of experience supplying and building high-quality post frame buildings for multiple purposes.
With significant exposure to and experience with heavy snowfall situations, the engineering team at Pacemaker can design your post frame building to withstand all levels of snow and other load challenges.
For more information, visit the Pacemaker website, or call the Pacemaker post frame experts at +1-888-834-4448.