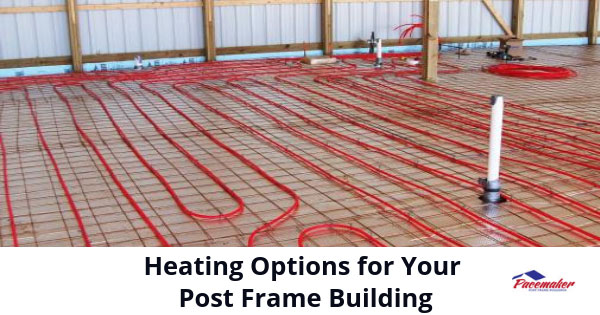 During the winter, in northern Indiana and southern Michigan, the interiors of buildings used for agricultural, storage, or mechanical purposes are often exposed to severe temperatures. To add to this, barns, auto repair shops, fire stations, and warehouses also must deal with frequent door openings and closings. When people are working in these structures, the environment can become quite uncomfortable.
As well, in equestrian centers and barns, extreme, frigid weather can be detrimental to the health of both animal and human occupants.
Post frame construction is a preferred building type for these sorts of structures. One of the proven benefits of post frame buildings are the ability to insulate uniformly.  Thereby they can deliver greater energy efficiency than other building types. The reason is that the vertical supports are spaced at eight-foot intervals allowing for fewer interruptions in the insulation application. Also, because of the thickness of the vertical framing; the wall cavities are thicker thus allowing for more insulating material within the walls.
Here are several strategic ways to heat a post frame building.
Heating Options for your Post Frame Building
Overhead Radiant Heating
Overhead radiant heating can reflect heat from exhaust tubes toward the floor where it will radiate back upward to warm the entire space. Some owners use radiant heat from their hot water boilers to warm the atmosphere.
The old, tried-and-true method of installing a wood or pellet stove for heat is practical. Especially when the space is not used continually or the temperatures are not extreme. This method is adequate as a secondary source of heat as well.
Floor Heating
Floor heating of a high-ceiling, post frame structure is often a practical approach. Particularly in the case when humans are present most of the time. During the winter, especially if entryways are opened and closed frequently, the floor surface can become uncomfortably cold. The situation can be especially problematic in barns or repair shops. Frequently, workers must lie on the floor to perform their jobs.
Within a barn or shop floor, designs may include an in-floor heated water system that circulates hot water through piping. Alternatively, electrical coils embedded in the flooring can provide warmth.This is a great solution for individuals working beneath equipment that may be cut off from any other heat sources positioned higher up in the building.
Incorporating these options in the original design is more economical since a retrofit can require extensive work.
Another consideration with floor heating is to determine where this option is necessary throughout. Perhaps radiant floor heating is not needed in every space since some areas may be allocated for storage and other uses that do not require the same levels of heating comfort. In this case, setting up zoning with the in floor pex tubing can be a beneficial energy efficient heat source.
Heating for Livestock
In most cases, horse, cattle, and other livestock do fine in colder weather, unless the temperatures reach below 0°F. In these instances, cold temperatures can cause illness if the exposure is prolonged.
However, a heat source in an animal barn is important for a variety of reasons. From keeping water sources from icing up, allowing humans to work comfortably, to keeping machines, equipment, and feeds from freezing.
Contact Pacemaker Post Frame Buildings for More Information About Heating Options for your Post Frame Building
Pacemaker Post Frame Buildings is a Northern Indiana leader in the manufacturing and constructing post frame buildings and components.
The requirement for heat; as noted, depends on the function of the building. The best time to consider the right heating system is during the planning stage when the owner and designer can collaborate on the future needs of the building.
For more information about this topic and others related to post frame buildings, visit the Pacemaker website. There you will see the broad range of practical and beautiful applications of post frame buildings and learn more about techniques used.
If you have questions, visit the Pacemaker Contact page, complete the simple information form, and a Pacemaker professional will contact you promptly.
Or, you may phone the post frame experts at Pacemaker at their toll-free number, (888)-834-4448.