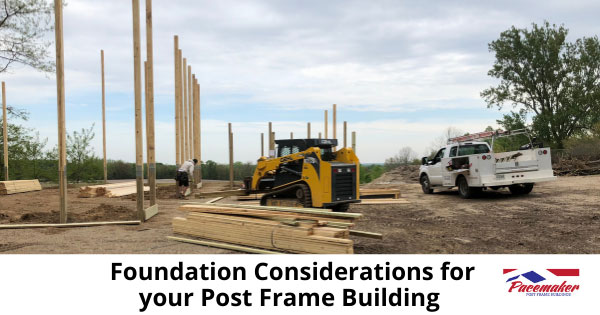 Once you have decided that a post frame building will be the best option for your project, deciding the appropriate foundation is next. Let's look at foundation considerations for your post frame building. As you probably already know, a post frame building may need only a properly leveled piece of real estate to support a long-lasting, highly-functional structure.
Foundation Considerations
How you plan to use the structure will be the principal driver of your decision regarding the building's base structure.
Listed in general ascending order of cost, the most frequently used foundation materials for post frame buildings are:
Dirt
Gravel
Stone
Asphalt
Concrete
A combination of any of the above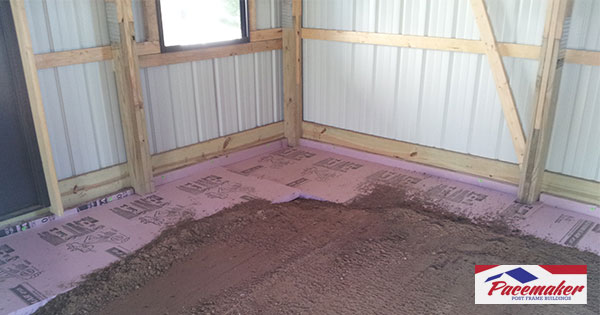 Deciding factors to determine which flooring is the most appropriate include:
The need to maintain a clean environment.
Maintenance requirements.
Vehicles and equipment weights that will move in and out of the structure.
Whether animals will reside in the building.
Ease of movement.
Personal comfort.
Aesthetics.
Cost.
Since each option carries a different cost to implement, the decision can really impact your budget. Your post frame professional can help you make other adjustments to allow for an upgraded foundation without exceeding your financial limits, if necessary.
While it is possible to upgrade later, the cost of retrofitting will likely be much higher than if done during the original construction process. However, other additions or upgrades to the building can be easier to retrofit.
Foundation Considerations – Option Details
Here are more details about each option, so you can make an informed decision on which foundation to include in your design.
Before any foundation is laid, the site must be appropriately graded and sloped adequately around the perimeter. This is to avoid water accumulation. Additionally, the plot should be fortified with compactable fill material to support and stabilize the foundation materials.
Dirt
Dirt is the most economical option and works well for storing equipment and vehicles. Also, to protect from ground moisture, you should consider constructing a raised storage platform to store other goods and supplies. Different flooring may be added later if the dirt flooring does not protect your assets as it should.
Gravel
A layer of gravel can help eliminate moisture and erosion problems that often occur with dirt floors. While gravel may be suitable for supporting equipment and vehicles, owners will likely need to apply a fresh layer periodically. Since dust usually rises from gravel flooring, the material is somewhat less desirable for some purposes than solid flooring.
Stone
An attractive and very robust solution, stone flooring is a popular choice. Most commonly, stone is used for residential post frame structures or segregated parts of an agricultural structure. These are often the areas set aside for an office, den, tack room, or another special purpose. Stone and cultured stone are available in several shapes, sizes, colors, and textures.
Asphalt
Asphalt is durable, clean, and ideal for moving vehicles in and out for storage and maintenance. Inside away from the elements, asphalt should be serviceable for many years before requiring repair or resurfacing.
Concrete
A concrete foundation reduces moisture and dust. Additionally, it is easy to clean. Concrete is most popular for heavy equipment storage areas and aisleways and entry points. Many building owners employ concrete flooring where traffic is highest. Although in barns they opt for softer surfaces where horses and livestock are kept.
For workshops, warehouses, and most storage facilities, the cleanliness and durability of concrete flooring tend to be the best option.
Contact Pacemaker Post Frame Buildings
Everyone's needs are different. Post frame construction allows building owners the flexibility they need when customizing their structure to fit their specifications.
Consulting with an experienced post frame professional during the design phase is the ideal first step. With design expertise drawn from decades of post frame success, a Pacemaker professional can advise the ins and outs of specific options, leaving you with a post frame building design that meets both your needs and budget.
Serving Northern Indiana, Southwest Michigan, and Northwestern Ohio, Pacemaker Post Frame Buildings of North Webster, Indiana, has perfected their materials and processes over the years.
To see some examples of Pacemaker's beautifully completed finished projects, visit the Pacemaker Gallery on their website.
To discuss your project, call Pacemaker at 1-(888)-834-4448.